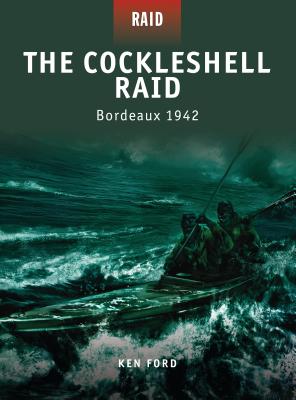 The Cockleshell Raid: Bordeaux 1942 (Paperback)
Bordeaux 1942
Osprey Publishing (UK), 9781846036934, 64pp.
Publication Date: March 23, 2010
* Individual store prices may vary.
or
Not Currently Available for Direct Purchase
Description
By the end of 1941 Germany was desperately in need of essential raw materials. Vital supplies from Japan were shipped to Germany by 'blockade runners' using the port of Bordeaux as their main base. Allied forces needed an undertaking to interfere with the work of these lone merchant ships at the port, leading to the formation of plans that ultimately became known as the Cockleshell Heroes Raid, in which a unit of Royal Marine Commandos mounted a raid via canoes launched from a submarine.
In this new addition to Osprey's RAID series, author Ken Ford explores the history of what is perhaps the bravest and imaginative raids of the entire war. The book details the original plans of the raid, along with the various complications and challenges faced by the Commandos, and explores the outcome of the raid.
About the Author
Ken Ford was born in Hampshire in 1943. He trained as an engineer and spent almost thirty years in the telecommunications industry before a change in career led him to become a full-time military historian. He is the author of over twenty books on various aspects of World War II. Ken now lives in Southampton. The author lives in Southampton, England.
Praise For The Cockleshell Raid: Bordeaux 1942…
"In his book on this raid, author Ken Ford looks at the development of the team and their equipment, the planning that went into the raid as well as the full story of the harrowing trip up river from the surviving crew and from German records of the interrogation of the captured crews.

Superbly illustrated with period photos and 3D Maps we are drawn into the story of these men and what they had to endure on this most hazardous mission. It is very much a gripping tale that I know you will thoroughly enjoy and as such I highly recommend this one to you." -Scott Van Aken, Modeling Madness / www.modelingmadness.com (April 2010)

"Remember that sophisticated British officer in the film Inglorius Basterds who joins Brad Pitt on the commando raid in France? Osprey Publishing's new addition to their "Raid" series highlights the efforts of fourteen intrepid men just like that character (but they're real)." - Ferrous Lands
Advertisement