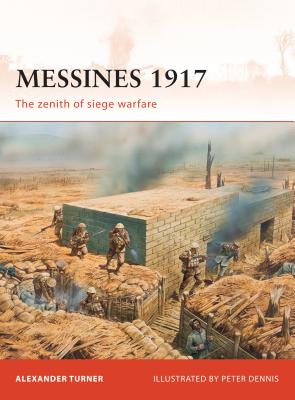 Messines 1917: The Zenith of Siege Warfare (Paperback)
The Zenith of Siege Warfare
Osprey Publishing (UK), 9781846038457, 96pp.
Publication Date: August 24, 2010
* Individual store prices may vary.
or
Not Currently Available for Direct Purchase
Description
At 0310 hours on 7 June 1917, the pre-dawn gloom on the Western Front was shattered by the 'pillars of fire' - the rapid detonation of 19 huge mines, secreted in tunnels under the German lines and containing 450 tonnes of explosives. Admitted by the Germans to be a 'masterstroke', the devastating blasts caused 10,000 soldiers to later be posted simply as 'missing'. Launching a pre-planned attack into the carnage, supported by tanks and a devastating artillery barrage, the British took the strategic objective of Messines Ridge within hours. A rare example of innovation and success in the First World War (1914-1918), this book is a fresh and timely examination of a fascinating campaign.
About the Author
Alexander Turner is a serving British Army officer in the Irish Guards. His operational experience includes Northern Ireland, Kosovo, the Iraq War of 2003 and service as a United Nations Military Observer. He has a BA in War Studies from King's College, London, and led a battalion battlefield tour to Vimy Ridge in 2002.
Praise For Messines 1917: The Zenith of Siege Warfare…
"The author details the methods used by the miners including excavation, rescue, and preparing the chamber for the explosives ... [and] explains how the miners dealt with the expansion of the clay that occurred when in contact with oxygen.  Similar mining operations had been used in warfare for hundreds of years, but this might well be the climax of this type of underground operations for breaching a fortified enemy position ... This is an excellent book for those interested in trench warfare and mining." -J.E. Kaufmann (November 2010)

"Messines was a fascinating strategic campaign that only took the British hours to win. It was a rare case of innovation and victory in the First World War ... The author takes a new and suitable approach with his examination of the fascinating campaign. He also includes over 60 photographs and images throughout, plus maps and four specially commissioned full-color plates of battle scenes and birds-eye-views."
-www.mataka.org (October 2010)
Advertisement