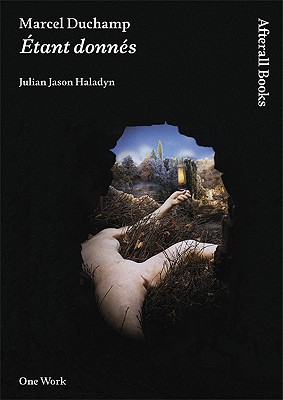 Marcel Duchamp
Étant Donnés (One Work)
Paperback

* Individual store prices may vary.
Description
Duchamp's famous last artwork, seen not as a summation of his work but as an invitation to endless interpretation.
Following Marcel Duchamp's death in 1968, the Philadelphia Museum of Art stunned the art world by unveiling a project on which he had been working secretly for twenty years, long after he had supposedly given up art for chess. Installed by the museum curators with the assistance of Duchamp's widow Teeny and stepson Paul Matisse, tant donn's (known in English as Given, or, literally, "being given") consists of a small room with a locked wooden door; through a peephole can be seen a landscape of trees, with a naked female figure at the front, her arm outstretched, holding a lamp. In this illustrated study, Julian Haladyn argues that Duchamp's intention in this final piece was similar to Raymond Roussel's in How I Wrote Certain of My Books: not, as many have maintained, to provide a neat summation of his career, but the opposite--to open his artwork (which he had made sure was fully represented in the Philadelphia Museum of Art's collection) to endless interpretation and reinterpretation. Duchamp's engagement with his legacy (by orchestrating first the purchase of his work and then the donation of those purchases to the museum) is a significant historical development in the critical relationship between artists and the institution of art--a relationship that would later be further explored by such artists as Andrea Fraser and Michael Asher. Additionally, Haladyn sees that the staging of tant donn s--especially the way that Duchamp forces viewers to become aware of the act of looking and their bodily presence in the gallery space--foreshadowed strategies used by Minimalism as well as installation, spectatorship, and institutional critique.
Afterall Books, 9781846380594, 107pp.
Publication Date: April 30, 2010
About the Author
Julian Jason Haladyn is a writer and artist based in Canada. He teaches at the University of Western Ontario.
or
Not Currently Available for Direct Purchase