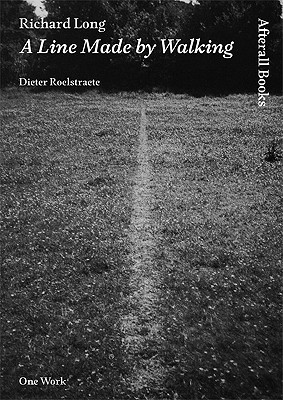 Richard Long
A Line Made by Walking
Hardcover

* Individual store prices may vary.
Other Editions of This Title:
Paperback (4/30/2010)
Description
In 1967, Richard Long, then twenty-two years old and a student at SaintMartin's School of Art in London, walked back and forth along a straight line in thegrass in the English countryside, leaving a track that he then photographed in blackand white. The resulting work, A Line Made by Walking, was not only the startingpoint for Long's career as an artist but also a landmark for a new kind of artemerging in Europe and the Americas. The formal simplicity of Long's artworksuggested a relation to minimalism, but its location outside the gallery context andits suggestion of bodily actions also connected it to a new generation of artistswhose work combined the organic, the temporary, the nonmaterial, and theperformative to offer a critique of the art system and its language, forms, andvalues. Long's work bridged the concerns of his North American and Europeancounterparts, connecting the industrial scale of Robert Smithson to the modesty ofGilberto Zorio, the exercises in dematerialization of Robert Morris with the organicforms of Alighiero e Boetti, and the performance of Yvonne Rainer with that ofJoseph Beuys.Although A Line Made by Walking is an instantly recognizable work, nodetailed analysis of this foundational piece has yet been published. At a time whenRichard Long's career is being celebrated and reassessed, this study by writer andcurator Dieter Roelstraete could not be more timely.
Afterall Books, 9781846380600, 86pp.
Publication Date: April 1, 2010
or
Not Currently Available for Direct Purchase