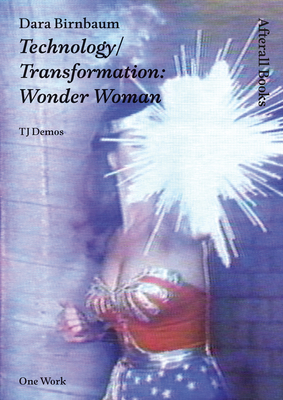 Dara Birnbaum
Technology/Transformation: Wonder Woman (Afterall Books / One Work)
Paperback

* Individual store prices may vary.
Description
A critical examination of Dara Birnbaum's action-packed and riveting video of Wonder Woman's transformations.
Opening with a prolonged salvo of fiery explosions accompanied by the warning cry of a siren, Dara Birnbaum's video Technology/Transformation: Wonder Woman (1978–79) is a concise, action-packed, and visually riveting video. During its seven-minute span we see, again and again, the transformation of the drab secretary Diana Prince into the super-heroic Wonder Woman. By isolating and repeating the moment of transformation—spinning figure, arms outstretched—Birnbaum unmasks the technology at the heart of the metamorphosis. In this illustrated examination of Birnbaum's video, T. J. Demos situates it in its historical context—among other developments in postmodernist appropriation, media analysis, and feminist politics—and explores the artist's pioneering attempts to open up the transformative abilities of video as a medium. Demos examines Birnbaum's influence on such artists as Douglas Gordon, Pierre Huyghe, Philippe Parreno, and Candice Breitz, and the turn toward "postproduction procedures"—the mobilization of existing imagery for innovative uses. He also reveals a fascinating historical shift in the reception of Birnbaum's work: a move from an emphasis on her deconstruction of mass culture ideology to an appreciation of her creative use of consumer imagery.
Afterall Books, 9781846380679, 118pp.
Publication Date: October 29, 2010
About the Author
T. J. Demos, an award-winning writer, is Professor of Visual Culture at the University of California, Santa Cruz and Director of its Center for Creative Ecologies. He writes widely about contemporary art, global politics, and ecology, and is the author, most recently, of Against the Anthropocene: Visual Culture and Environment Today (Sternberg Press).
or
Not Currently Available for Direct Purchase