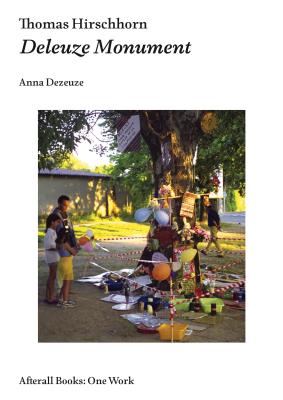 Thomas Hirschhorn
Deleuze Monument (Afterall Books / One Work)
Hardcover

* Individual store prices may vary.
Other Editions of This Title:
Paperback (8/22/2014)
Description
An illustrated examination of one of Hirschhorn's "precarious" monuments, now dismantled.
Part-text, part-sculpture, part-architecture, part-junk heap, Thomas Hirschhorn's often monumental but precarious works offer a commentary on the spectacle of late-capitalist consumerism and the global proliferation of commodities. Made from ephemeral materials--cardboard, foil, plastic bags, and packing tape--that the artist describes as "universal, economic, inclusive, and without] any plus-value," these works also engage issues of justice, power, and moral responsibility. Hirschhorn (born in Switzerland in 1957) often chooses to place his work in non-art settings, saying that he wants it to "fight for its own existence." In this book, Anna Dezeuze offers a generously illustrated examination of Hirschhorn's Deleuze Monument (2000), the second in his series of four Monuments.
Deleuze Monument--a sculpture, an altar, and a library dedicated to Gilles Deleuze--was conceived as a work open to visitors twenty-four hours a day, seven days a week. Part of the exhibition "La Beaut " in Avignon, Deleuze Monument was controversial from the start, and it was dismantled two months before the end of the exhibition after being vandalized. Dezeuze describes the chronology of the project, including negotiations with local residents; the dynamic between affirmation and vulnerability in Hirschhorn's work; failure and "scatter art" in the 1990s; participatory practices; and problems of presence, maintenance, and appearance, raised by Hirschhorn's acknowledgement of "error" in his discontinuous presence on site following the installation of Deleuze Monument.
Afterall Books, 9781846381447, 100pp.
Publication Date: August 22, 2014
About the Author
Anna Dezeuze, is the editor of The 'Do-it-yourself' Artwork: Participation from Fluxus to New Media and co-editor, with Julia Kelly, of Found Sculpture and Photography from Surrealism to Contemporary Art. Her writing has appeared in Oxford Art Journal, Women & Performance, Performance Research, Mute, and Art Monthly. She is a Lecturer in Art History at the Ecole Superieure d'Art et de Design Marseille Mediterranee.
or
Not Currently Available for Direct Purchase