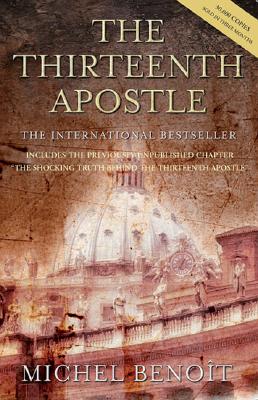 The Thirteenth Apostle
Paperback

* Individual store prices may vary.
Other Editions of This Title:
Paperback (10/1/2007)
Paperback (7/4/2011)
Description
When his friend Father Andrei is killed on a train en route to the Vatican, Father Nil, a Benedictine who teaches the Gospel of St. John to novices, decides to conduct his own investigation. The dead priest possessed proof of the existence of a 13th disciple and an epistle stating that Jesus was nothing more than an inspired prophet, not the son of Godtwo things that would spell great danger for the Catholic church. Father Nil then discovers a previously unpublished account of the origins of Christianity. It tells of the Nazarenes, a community excluded from the official Church by Peter and Paul, which appears to have thrived until the seventh century and given birth to Islam. Whilethe priestpushes ahead with his investigation, the Pope's advisors, rival factions, and secret societies are trying, by any means, to lay their hands onhis findings. From the Mossad to Fatah, everyone seems to have a very good reason to keep the 13th disciple a secret.
Alma Books, 9781846880629, 377pp.
Publication Date: September 1, 2008
About the Author
Michel Benoit entered the Benedectine order in 1962 as an unordained monk, remaining there for22 years.Uponleavingthe Catholic Church he devoted himself to research and writingon the life of Jesus."
or
Not Currently Available for Direct Purchase