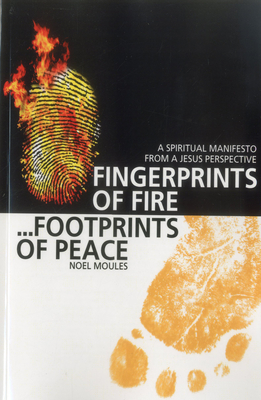 Fingerprints of Fire... Footprints of Peace (Paperback)
A Spiritual Manifesto from a Jesus Perspective
John Hunt Publishing, 9781846946127, 240pp.
Publication Date: September 16, 2012
* Individual store prices may vary.
Description
In this vibrant and radical book, Noel Moules offers a compelling vision of identity, community, life and faith from a Jesus perspective. By sketching a bold and colourful manifesto that teems with graciously passionate provocation, the author explores creativity, wisdom, spiritual growth, truth, ecology, values, justice, faith-dialogue and activism, all wrapped in the thrilling encompassing vision of shalom. Presenting a rooted and rugged spirituality that is accessible to all readers, this book asks big questions and dares to offer answers that pulsate with beauty, energy and grace. It is a humble invitation to join a thrilling conversation and to continue to explore together on the journey into the wonderful mystery of life. I predict that this book will become an essential handbook for spiritual renewal and transformative action Noel gives us hope just when we need it most. Stuart Masters Woodbrooke Quaker Study Centre UK Work for peace, Noel tells us, is about getting our hands dirty, paying a price, changing the world in the here and now. Pat Gaffney General Secretary of Pax Christi UK, Nobel Peace Prize nominee 2005.
About the Author
Noel Moules is the founder of Anvil Trust and its national learning programme Workshop: Applied Christian Studies, which has been running since 1983. Born in India in 1945, the eldest child of missionary parents, he grew up in the foothills of the Himalaya. He studied theology and education, as head of department he taught religious studies for a number of years before starting Workshop. Experienced in church leadership, he is a founder member of the Anabaptist Network. He is the co-founder of Peace School, which explores shalom activism, and is developing the Peace Church concept to help people think differently and creatively about being church both locally and globally. He is a teacher and activist, a frequent speaker at festivals, conferences and other gatherings. He enjoys doing Table-Talks centred on radical discussions. Noel loves every kind of wilderness, hill-walking and world music. He is an ethical-vegan. He is passionately committed to non-violence, social justice and the integrity of all creation. The values of peace, freedom, truth and wisdom are central to his spirituality. He lives in Sheffield UK with Rowena, they have been married since 1971 and they have three adult children.
or
Not Currently Available for Direct Purchase