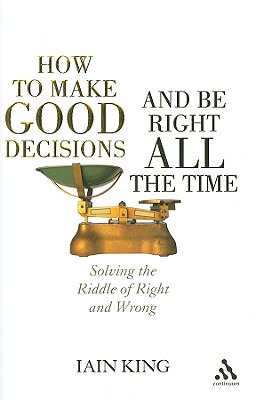 How to Make Good Decisions and Be Right All the Time (Hardcover)
Solving the Riddle of Right and Wrong
Continuum, 9781847063472, 245pp.
Publication Date: December 16, 2008
* Individual store prices may vary.
Description
A compelling guide to ethical thinking for everyday life
In How to Make Good Decisions and Be Right All the Time Iain King presents an introduction to moral philosophy from the ancient Greeks to the Enlightenment and beyond. He argues that right and wrong need a Newtonian revolution so that they are no longer a matter of judgment or guesswork and presents a system of simple formulas for solving difficult moral quandaries. Clearly argued, the book combines new ideas with old and rips apart traditional tenets of morality, dismantling even the golden rule that you should "do unto others as you would have done unto you." In their place, the author constructs a new, comprehensive system of ethics, identifying the basic DNA of right and wrong and offering clear advice on how to be good in today's complicated and challenging world.
Sometimes controversial and thoroughly engaging throughout, How to Make Good Decisions and Be Right All the Time is required reading for anyone with a difficult decision to make.
About the Author
Iain King, a former fellow of the University of Cambridge, UK, and author of the acclaimed Peace at Any Price (Cornell University Press, 2006), has faced many testing decisions working in Kosovo, Afghanistan and Africa.
or
Not Currently Available for Direct Purchase