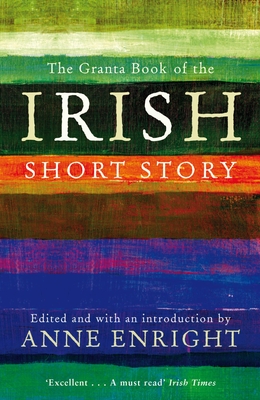 The Granta Book of the Irish Short Story (Paperback)
Granta Books, 9781847082558, 442pp.
Publication Date: April 5, 2012
Other Editions of This Title:
Hardcover (3/1/2011)
* Individual store prices may vary.
Description
Lyrical, dark, comic or iconoclastic, the Irish short story has always punched well above its weight. Anne Enright has brought together a dazzling collection of Irish stories by authors born in the twentieth century - from Mary Lavin and Frank O'Connor to Claire Keegan and Kevin Barry. With a pithy and passionate introduction by Enright, The Granta Book of the Irish Short Story traces this great tradition through decades of social change and shows the pleasure Irish writers continue to take in the short-story form. Deft and often devastating, the short story dodges the rolling mythologies of of Irish life to produce truths that are delightful and real. Also includes stories by: Maeve Brennan, Roddy Doyle, Mary Lavin, Colum McCann, William Trevor, John McGahern, Colm T ib n, Claire Keegan and Kevin Barry.
About the Author
ANNE ENRIGHT has published essays, short stories, a non-fiction book about motherhood and five novels including The Gathering, winner of the 2007 Man Booker Prize. She lives in Dublin.
Praise For The Granta Book of the Irish Short Story…
Enright has assembled a collection notable for its emotional range, its openness to many voices (not all lonely) and its willingness to reflect current realities. There is no conclusive formula linking such disparate narratives, no slick exploitation of Irishness, but rather a rich interplay of themes that capture a world in transition. Declan Kiberd, Irish Times
A rich and absorbing volume, an evocation of life in Ireland which, at its finest, produces brilliantly skewering fragments written to pierce as well as gleam ... Enright's choice is a shrewd one, succeeding in typifying each writer whilst expressing their uniqueness. Tom Adair, Scotland on Sunday
A book that intoxicates you with the sheer scope and potency of the short story form. Daragh Reddin, Metro
The Granta Book of the Irish Short Story is more cherishable than canonical, and refreshingly contemporary in its selection of writers and writerly concerns. Keith Hopper, Times Literary Supplement
[Anne Enright's] witty, brilliant introduction is one of the jewels in this selection ... When making her choices she concentrated on the art rather than the Irishness, and the result is sometimes wonderfully unexpected - here are William Trevor, Colm Toibin, Roddy Doyle, Clare Boylan and all the other geniuses, but not as you think you know them. Unmissable. Kate Saunders, The Times
In an elegant and considered introduction to this collection, [Enright] explains that these short stories are simply ones she enjoys. However, the 31 inclusions cannot but say something about Ireland ... 'A Priest in the Family' by Colm Toibin is superb ... Edna O'Brien offers another fresh take on the sexuality of the clergy ... The further positives of The Grnta Book of the Irish Short Story are too many to mention ... In this collection you encounter loners, outsiders and deeper versions of people you know; and eventually, one will say something just to you, and the mystery of the Irish short story comes as close as it can to being understood. Eithne Shortall, Sunday Times Ireland
We may not be very good at economics or honest politics, but we certainly know how to write a short story. The excellent Granta Book of the Irish Short Story, edited by Anne Enright, is a must-read. Irish Times
Full of tales that combine lyricism, humour and tragedy by the likes of William Trevor as well as relative newcomers such as Claire Keegan and Philip Ceallaigh, it is shot through with an enduring sense of place but at the same time marks the enormous social changes Ireland has undergone in the past century. Giles Foden, Conde Nast Traveller
This collection makes a bewitching bedside companion, amply illustrating that the Irish short story is very much alive and kicking. Emma Hagestadt, Lady