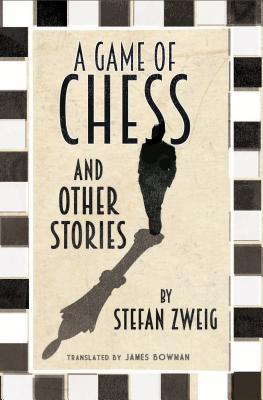 A Game of Chess and Other Stories
New Translation (Evergreens)
Paperback

* Individual store prices may vary.
Description
When it is discovered that the reigning world chess champion, Mirko Czentovic, is on board a cruiser heading for Buenos Aires, a fellow passenger challenges him to a game. Czentovic easily defeats him, but during the rematch a mysterious Austrian, Dr B., intervenes and, to the surprise of everyone, helps the underdog obtain a draw. When, the next day, Dr B. confides in a compatriot travelling on the same ship and decides to reveal the harrowing secret behind his formidable chess knowledge, a chilling tale of imprisonment and psychological torment unfolds.

Stefan Zweig's last and most famous story, 'A Game of Chess' was written in exile in Brazil and explores its author's anxieties about the situation in Europe following the rise of the Nazi regime. The tale is presented here in a brand-new translation, along with three of the master storyteller's most acclaimed novellas: Twenty-four Hours in the Life of a Woman, The Invisible Collection and Incident on Lake Geneva.
Praise For A Game of Chess and Other Stories: New Translation (Evergreens)…
"Perhaps the best chess story ever written, perhaps the best about any game." - The Economist

"A perfect introduction to Zweig." - The Jewish Chronicle

"It is somehow progressively thrilling, yet consistently still and calculated. With barely a note out of tune, this is a short story masterclass." - The Big Issue

"Although these four stories are in many ways very different, they all share a theme of single-minded behaviour, are underpinned by social and political commentary, full of symbolism and are rich in metaphor and allegory. This ensures that they really do feel timeless -- true modern-day parables." - Nudge Books
Alma Classics, 9781847495815, 160pp.
Publication Date: February 27, 2016
About the Author
One of the most prominent European writers of the 1920s and 1930s, Stefan Zweig (1881–1942) left his native Austria in 1934 following the rise of Nazism, committing suicide in exile in Brazil.