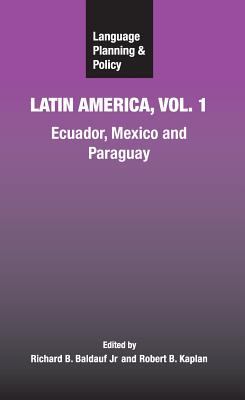 Language Planning and Policy in Latin America (Hardcover)
Ecuador, Mexico and Paraguay
Multilingual Matters Limited, 9781847690067, 312pp.
Publication Date: June 5, 2007
* Individual store prices may vary.
Description
This volume covers the language situation in Ecuador, Mexico and Paraguay, explaining the linguistic diversity, the historical and political contexts and the current language situation, including language-in-education planning, the role of the media, the role of religion, and the roles of indigenous and non-indigenous languages. The authors are indigenous and/or have been participants in the language-planning context. This volume contains monographs on Ecuador, Mexico and Paraguay, which are not well represented in the recent international language policy and planning literature, and draws together the existing published research in this field. The purpose of the areal volumes in this series is to present up-to-date information on polities, particularly those that are not well known to researchers in the field, thereby providing descriptions of language planning and policy in countries around the world. The longer range purpose of collecting comparable information on the full range of polities is to facilitate the development of a richer theory to guide language policy and planning in polities that undertake the development of national and local language policy initiatives.
About the Author
Richard B. Baldauf, Jr. is Associate Professor of TESOL in the School of Education at the University of Queensland and a member of the Executive of the International Association of Applied Linguistics (AILA). He has published numerous articles in refereed journals and books. He is co-editor of Language Planning and Education in Australasia and the South Pacific (Multilingual Matters, 1990), principal researcher and editor for the Viability of Low Candidature LOTE Courses in Universities (DEET, 1995) and co-author with Robert B. Kaplan of Language Planning from Practice to Theory (Multilingual Matters, 1997) and Language and Language-in-Education Planning in the Pacific Basin (Kluwer, 2003). Robert B. Kaplan is Emeritus Professor of Applied Linguistics at the University of Southern California. He has published numerous books and articles in refereed journals and written several special reports to government both in the US and elsewhere. He is the founding Editor-in-Chief of the Annual Review of Applied Linguistics and is a member of the editorial board of the 1st and 2nd editions of the Oxford International Encyclopedia of Linguistics (1992, 2002). Additionally, he edited the Oxford Handbook of Applied Linguistics (2002). He has served as President of the National Association for Foreign Students Affairs, of TESOL, and of the American Association for Applied Linguistics.
or
Not Currently Available for Direct Purchase