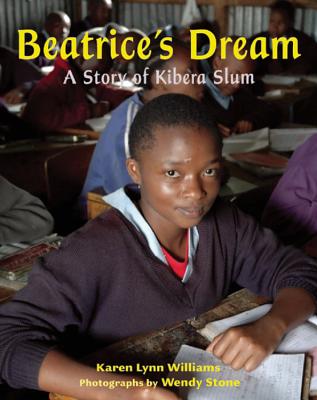 Beatrice's Dream: A Story of Kibera Slum (Hardcover)
A Story of Kibera Slum
Frances Lincoln Children's Books, 9781847800190, 32pp.
Publication Date: August 1, 2011
* Individual store prices may vary.
or
Not Currently Available for Direct Purchase
Description
Beatrice is a thirteen-year-old orphan in Kibera, Nairobi - a Kenyan shantytown built on refuse and rubbish and one of the biggest slums in Africa. In this book she describes her life: her walk to school, the dust that blows between her teeth and the mud she wades through, her teacher's down-to-earth encouragement, her fear of being alone, how safe she feels at school...

This sensitive account in words and photographs reveals the realities of life for some of the world's most deprived people - and offers hope as Beatrice follows her dream.

About Kibera slum

Kibera is in Nairobi, the capital city of Kenya, in east Africa. It is one of the largest slums in the world with over half a million people living there – about a quarter of the population of Nairobi. The slum covers 2.5 square kilometres (630 acres). There are no roads and few of the residents have modern toilets, clean drinking water or electricity. The crime rate is high and disease spreads rapidly in the unsanitary conditions.
Many people come to Kibera from rural areas to look for jobs in the city. A large proportion of the children have become orphans because so many adults have died from AIDS – many people in Kibera are infected with the HIV/AIDS virus.
A number of organisations work in the slum offering medical care, finding jobs and houses, and encouraging people to take part in sports and education. KIKOSHEP (Kibera Community Self-Help Program) provides care and advice for people with HIV/AIDS. They also have a youth centre where youngsters like Beatrice can go for health information and advice. The centre shows films and arranges sports and social events.
I first met Beatrice at the KIKOHEP primary school. Since then, she has graduated at the top of her class and is eligible to go on to secondary school. In Kibera, this is most children's dream – they see education as the best way to escape from the slum.
But sadly, many girls are sent away by their families into arranged marriages or end up on the street as prostitutes, so they are never able to realise their dream.
The Kenyan Government and the United Nations have now started building new homes in Kibera so that they can move thousands of people out of the slum into better living conditions.
Advertisement