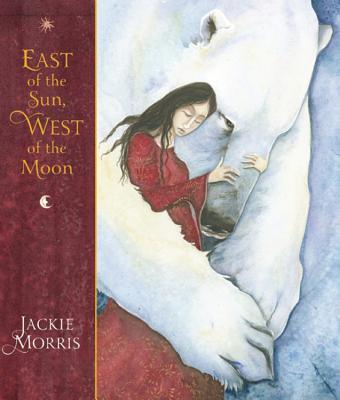 East of the Sun, West of the Moon (Hardcover)
Frances Lincoln Children's Books, 9781847802941, 176pp.
Publication Date: February 26, 2013
* Individual store prices may vary.
Description
From the moment she saw him, she knew the bear had come for her. How many times had she dreamt of the bear.. Now, here he was, as if spelled from her dreams.
"I will come with you, Bear," she said.
It is the beginning of an extraordinary journey for the girl. First to the bear's secret palace in faraway mountains, where she is treated so courteously, but where she experiences the bear's unfathomable sadness, and a deep mystery.
As the bear's secret unravels, another journey unfolds.ÿ a long and desperate journey, that takes the girl to the homes of the four Winds and beyond, to the castle east of the sun, west of the moon.
This beautiful, mysterious story of love, loyalty and above all, freedom, is inspired by fairy tale, and is magically told and illustrated by Jackie Morris.
About the Author
JACKIE MORRIS lives in Pembrokeshire, Wales, with children, dogs and cats. A best-selling author of more than 30 books for children, she was shortlisted for the Greenaway Award in 2016: the UK's biggest picture book prize. Among her many books for Frances Lincoln are The Ice Bear, The Snow Leopard, Tell me a Dragon, and How the Whale Became by Ted Hughes.
Praise For East of the Sun, West of the Moon…
'Jackie Morris does more than tell a story, she conjures glorious landscapes of the heart'
'An absolutely beautiful and lyrical retelling of the classic northern fairy tale, re-imagined with a modern backdrop and a less conventional ending.'
`This beautiful book is delicately written and exquisitely illustrated . This is a charming tale of magic, love and freedom.'
'an entrancing story . . . beautifully retold.'ÿ 'A lovely gift edition, beautifully illustrated by the author, this is a book to treasure.'
'this is a jewel of a book.'
'The achingly beautiful story of finding love and freedom moves from the dirty city back-streets of the 'real' world to 'fairy tale' landscapes of desert or woods or ice, interspersed with beautiful full page and smaller illustrations . A rare book that is as lovely to look at and hold as it is to read.'
'Attractively retells a traditional story'
'A lovely retelling of a fairy tale journey with a magical polar bear . The dreamlike illustrations perfectly match the story.'
'This is a gripping read which took me away to a whole new world.'
`A beautiful, mysterious story of love, loyalty and above all, freedom, magically told and illustrated.'
ÿ'a ravishing story of love, longing, courage and coming of age'
'attractively retells a traditional story'
'a ravishing story of love, longing, courage and coming of age'
`This beautiful book is delicately written and exquisitely illustrated . This is a charming tale of magic, love and freedom.'
'an entrancing story . . . beautifully retold.'
'The achingly beautiful story of finding love and freedom moves from the dirty city back-streets of the 'real' world to 'fairy tale' landscapes of desert or woods or ice, interspersed with beautiful full page and smaller illustrations.A rare book that is as lovely to look at and hold as it is to read.'
ÿ`Lovely. . . The dream-like illustrations perfectly match the story'
ÿ`A beautiful, mysterious story of love, loyalty and above all, freedom, magically told and illustrated.'
'This is a gripping read which took me away to a whole new world.'
'The power of the tale resides in the way it is told, complemented by luminous illustrations. Landscapes filling a double page place the reader at the scene in the immediacy of the moment. Smaller illustrations of the protagonists, objects and wild life embellish the pages like medieval manuscripts and offer moments for thought. This new telling brings fresh insights to a profound and ancient story. It is a book to treasure and will delight mature young readers, and older ones too.'
'The achingly beautiful story of finding love and freedom moves from the dirty city back-streets of the 'real' world to 'fairy tale' landscapes of desert or woods or ice, interspersed with beautiful full page and smaller illustrations…A rare book that is as lovely to look at and hold as it is to read.'
'an entrancing story . . . beautifully retold.'
'Jackie Morris does more than tell a story, she conjures glorious landscapes of the heart'
or
Not Currently Available for Direct Purchase