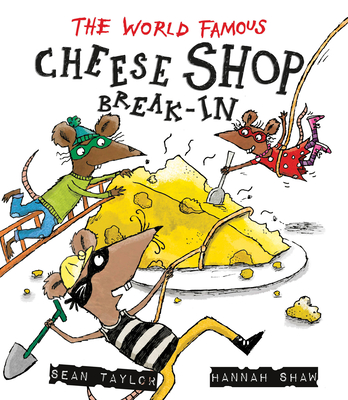 The World-Famous Cheese Shop Break-in (Hardcover)
Frances Lincoln Children's Books, 9781847804303, 32pp.
Publication Date: September 15, 2015
Other Editions of This Title:
Paperback (4/7/2016)
* Individual store prices may vary.
Description
There it was, between The Greengrocer's and The Underwear Outfitters.
The Cheese Shop.
It was stuffed full of cheese stinkier than old socks.
And Daddypops said just what I knew he was going to...
"We are about to carry out the World-Famous Cheese Shop Break-In."
Daddypops says it will be as easy as 123 to get into the Cheese Shop... First he tells his children to just walk through the door and get the cheese... But THAT doesn't work. Then he makes a catapult and fires them into the shop... THAT doesn't work either. Finally Daddypops has his most brilliant idea ever. He gets a pickaxe, a shovel and a bucket and tells the children what to do. They will dig a tunnel to the Cheese Shop, and break through to the shop floor at dead of night. What could go wrong?
About the Author
Sean Taylor is an award-winning author of over 50 books for young readers of many different ages. As well as writing, he has many years' experience visiting schools, where he works with poetry and storytelling to encourage young people to write themselves. He lives with his wife and two sons in Bristol, England. www.seantaylorstories.com
Hannah Shaw graduated from Brighton University with a BA in Illustration. Since then she has worked as a freelance illustrator and graphic designer, but has also worked in a chocolate shop and a bead factory. Since childhood she has had a passion for writing stories and creating characters to illustrate them. She currently lives in a tiny village in Gloucestershire, U.K.
Praise For The World-Famous Cheese Shop Break-in…
"A silly caper that kids who crack up at the very mention of underwear will enjoy." - School Library Journal
â??"A cheese shop makes an irresistible target for a bandit rat and his only slightly less avid offspring." - Kirkus Reviewsâ??