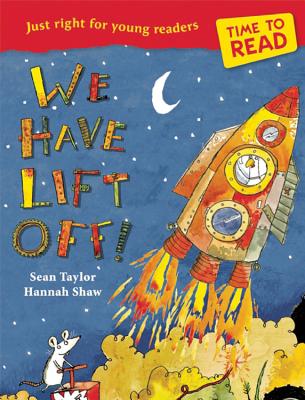 Time to Read (Paperback)
We Have Lift-Off!
Frances Lincoln Children's Books, 9781847804778, 32pp.
Publication Date: June 10, 2014
Other Editions of This Title:
Hardcover (7/23/2013)
* Individual store prices may vary.
Description
Mr Tanner the farmer pollutes his farm and mistreats his animals, leading them to stage a rebellion. They build an intergalactic space rocket to take them up into the clean, clear skies, far away from those who are polluting the planet. First a chicken, then a clever rabbit, and lastly a calm sheep, are chosen for test flights. But each time something goes wrong and the rocket returns to Earth. The animals don't know what to do. But then Farmer Tanner discovers the rocket and, determined to take it for his own, he zooms off into space, and is never seen again. 
Created in consultation with literacy specialist, Prue Goodwin, this edition contains the complete story, re-designed to help support children who are gaining confidence in reading. 
About the Author
Sean Taylor is an award-winning author of over 50 books for young readers of many different ages. As well as writing, he has many years' experience visiting schools, where he works with poetry and storytelling to encourage young people to write themselves. He lives with his wife and two sons in Bristol, England. www.seantaylorstories.com
Hannah Shaw graduated from Brighton University with a BA in Illustration. Since then she has worked as a freelance illustrator and graphic designer, but has also worked in a chocolate shop and a bead factory. Since childhood she has had a passion for writing stories and creating characters to illustrate them. She currently lives in a tiny village in Gloucestershire, U.K.
Praise For Time to Read: We Have Lift-Off!…
'A lovely story of animals versus humans told in words and wonderfully colourful pictures on every page.'
'Highly entertaining'
'It's fun and lively with a wonderful cast of animals all shown well through the action-packed illustrations.'
â??A lovely story of animals versus humans told in words and wonderfully colourful pictures on every page.'
'It's fun and lively with a wonderful cast of animals all shown well through the action-packed illustrations.'
or
Not Currently Available for Direct Purchase