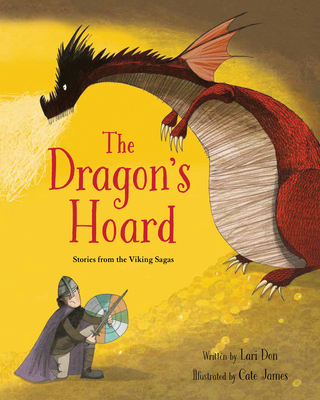 The Dragon's Hoard (Hardcover)
Stories from the Viking Sagas
Frances Lincoln Children's Books, 9781847806819, 64pp.
Publication Date: September 1, 2016
* Individual store prices may vary.
Description
Meet the Vikings and enter their enchanting world full of warriors and battles, heroes and heroines, Berserkers, monsters and zombies, and of course, lots of magic. Illustrated throughout, these eleven amazing stories bring the Viking Sagas, tales they themselves told, to vivid life. A fantastic introduction to Viking mythology, these illustrated tales will have children captivated.
About the Author
LARI DON is a successful children's writer based in Edinburgh. Lari is currently A Chatterbooks Champion with the Reading Agency.
CATE JAMES comes originally from Sheffield, but went to school in Edinburgh and studied at Edinburgh Art College, where she now teaches. She works in line and wash, and acrylics. Her previous children's book was Breaking the Spell. Cate lives in Sydney, Australia.
Praise For The Dragon's Hoard: Stories from the Viking Sagas…
"These accessible, well-told offerings introduce a civilization of great warriors. For those who enjoy tales without happy endings." –Susan Scheps, formerly at Shaker Public Library, OH, for School Library Journal
"In James' cartoon illustrations the shaggy, smiling, light-skinned warriors and other human figures look far from ferocious, and even the monsters are decidedly nonthreatening. An engaging collection, cast in modern but not anachronistic prose and equally suitable for reading aloud or alone."
- Kirkus Reviews
"Don is clear about the Vikings' warlike tendencies ("the Vikings' violent reputation is probably entirely deserved," she notes in her introduction), but James's scribbly cartoons show the softer sides of dragon slaying, sword wielding, and battle waging, mirroring the tongue-in-cheek tone of these retellings."
- Publisher's Weekly
"This collection of eleven stories begs to be told aloud, preferably in a grand hall with a real fireplace and flagons of ale; barring that, it should at least be shared in a group where readers can use the illustrations as anchoring points before hearing these adapted Viking tales."
- The Bulletin of the Center for Children's Books
"...a varied, lively collection of stories with heroes, beasts, and battles to the death, but with some unexpected elements as well."
- Carolyn Phelan, Booklist Online