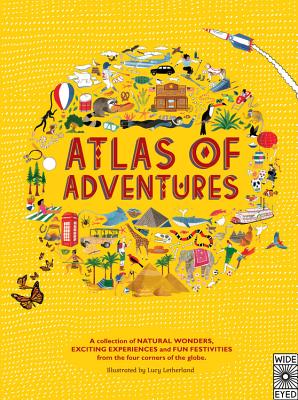 Atlas of Adventures
A collection of natural wonders, exciting experiences and fun festivities from the four corners of the globe
Hardcover

* Individual store prices may vary.
Description
Set your spirit of adventure free with this lavishly illustrated trip around the world. Whether you're visiting the penguins of Antarctica, joining the Carnival in Brazil or taking a canoe safari down the Zambezi River, this book brings together more than 100 activities and challenges to inspire armchair adventurers of any age.

Celebrate the great diversity of our planet: with every turn of the page, you'll come across different animals, people and sights unique to each of the locations. Look out for two adventurers in every scene as you travel through the book. Discover with them hundreds of things to spot and learn about.

Each section begins with an infographic map of the region it explores, followed by richly detailed two-page spreads featuring its most fascinating locations. You'll get to go to sleep under the Northern Lights, meet millions of monarch butterflies in the boreal forests of Mexico's volcanic mountains, shower with an elephant in Chiang Mai, and go snorkeling in the Great Barrier Reef, among many other amazing adventures.

Interesting facts and figures pepper the scenes. Did you know that London's Big Ben clock bell weighs as much as a small elephant? Or that more than one-third of the world's commercial supply of pineapples comes from Hawai'i? A 'Can you find?' page at the back challenges you to explore the pages even deeper by locating the pictured people, animals and things.

With epic adventures from the four corners of the globe and discoveries to be made on your own doorstep, this book will inspire you to set off on your own journey of discovery.
Praise For Atlas of Adventures: A collection of natural wonders, exciting experiences and fun festivities from the four corners of the globe…
"will occupy many a riveted hour" - Wall Street Journal
"The endpapers are a delight: the front sheets are covered with monarch butterflies, while the back pages depict penguins, swimming off at the bottom right corner of the spread....a fun, lighthearted introductory world atlas." - School Library Journal
"Kids go on adventures, solve puzzles, and play games as they take a sumptuously illustrated trip around the world." - Entertainment Weekly
"Our favourite page was the one on London as we are visiting in half term ..." - The Guardian
"This book [will] inspire armchair adventurers of any age." - Manchester Evening News
"Young adventurers will love this lavishly illustrated trip around the world." - Mumsnet
"What this book sets out to do, and what it does very successfully, is to inspire your readers with a sense of the diversity of our planet and its wonders, both man-made and natural. It also provides a true sense of what travel is for as we see those young adventurers meeting local people and joining in with them in a wide range of different activities." - Books for Keeps
"Oh, oh, oh, oh, OHHHHH this is a geographical treat, a global spectacle, a truly earth-shattering view of planet earth." - Read It Daddy
"Reading maps doesn't have to be boring. In fact it could be an invitation to an adventure and if you choose the 'Atlas of Adventures' by Lucy Letherland, then you are sure to have some wonderful time travelling with your finger on the map through some of the most exciting places." - Mojo Mums
'Atlas of Adventures, our new favourite book' - 'What I love about the book is that is doesn't just show you a picture of a city or place, but it allows the reader to experience what it would be like to be there... It's also filled with fun and engaging illustrations and interesting facts about every destination... Atlas of Adventures is the first book out from a new imprint called Wide Eyed Editions which we are really excited about.' - Babyccino
"An inspiring book that will encourage the reader to find out more about the countries and encourage them to travel to see them for themselves. The generous size makes it great to share - excellent in the classroom. This is the debut title from Wide Eyed Editions, a new imprint of Quarto Books - I can't wait to see what comes next!" Parents in Touch
"A beautiful book... The illustrations are fun, the colours are vibrant, some of the facts are random (but true)...Fascinating, fun - and an ideal Christmas present.' - Scotsman
"Atlas of Adventures is a huge - and rather yellow - book, and it's one I would have read endlessly as a child... In short, it simply seems like a fun book, and you ought to be able to spend ages looking at the pictures and reading the snippets of facts, over and over again." - Bookwitch
"The strength of the book is in the collaboration between he author and illustrator; the research of the many quirky elements of our planet will appeal to the budding explorers and anthropologists, geographers and biologists... This is a superb resource for any classroom attended by 4 year olds and older children." - Montessori International
"Lucy Letherland's Atlas of Adventures has much to recommend it." - The Daily Telegraph
"Lucy Letherland's handsome Atlas of Adventures is an illustrated list of activities around the world, each inspiring, detailed scene annotated with facts." - Nicolette Jones Sunday Times
"a big, horizon-expanding non-fiction book for children curious about their world ... a collection of colourful spreads illustrating some of the world's most varied places... - each page is bright and interesting, and generously scattered with bits of fascinating information." - Daniel Hahn Independent on Sunday
"We're childishly excited about the Atlas of Adventures. Beautifully illustrated, Lucy Letherland's book features a map of each continent and suggested experiences therein, from exploring the pyramids of Egypt to visiting penguins in Antarctica. As well as playful imagery, pages are smattered with fun facts to inspire infant adventures." - Lonely Planet Magazine
* "The magnificent, oversized Atlas of Adventures--a celebration of the world's diversity--invites readers to steer a Venetian gondola or shower with an elephant in Thailand's Chiang Mai." - Shelf Awareness for Readers, starred review
Wide Eyed Editions, 9781847806956, 96pp.
Publication Date: August 6, 2015
About the Author
Rachel Williams is the award-winning author of Atlas of Adventures. She lives and works in London.
Lucy Letherland is an illustrator based in London, UK. She graduated from Manchester School of Art in 2011 with a First Class BA (Hons) in illustration with animation. Lucy's work is strongly led by humor and narrative, creating a playful, graphic quality. Her books include Atlas of Adventures, Atlas of Adventures: Wonders of the World, Atlas of Animal Adventures, and Atlas of Dinosaur Adventures.