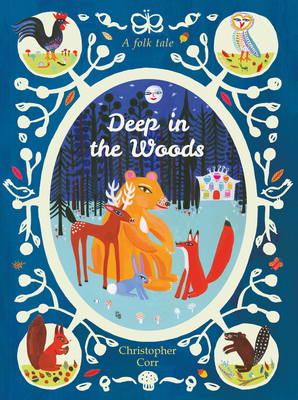 Deep in the Woods (Hardcover)
Frances Lincoln Children's Books, 9781847807267, 32pp.
Publication Date: April 4, 2017
* Individual store prices may vary.
Description
Deep in the woods is a little wooden house, with nine neat windows and a red front door. When a little mouse decides it will make the perfect home, so do the other animals in the wood - including a great big bear!
But will the bear be able to put everything right when their home comes tumbling down? Find out in this beautifully illustrated retelling of a classic Russian folk tale.
About the Author
CHRISTOPHER CORR is an established author/illustrator whose many books have won him international acclaim. He studied at the Royal College of Art, and now lives and works in London as an artist and tutor at Goldsmiths University.
Praise For Deep in the Woods…
"a vibrant modern retelling of a classic Russian folk tale...Rendered in electric hues…like a delectable candy box… There is a lesson here — about friendship, and sharing — but the book never feels plodding or pedantic. Its rhythms are as surprising as its vivid hues, full of small but powerful subversions of kid-lit logic: The animals show up in bunches, not page by page… What's more, there are no grown-ups here. The animals are peers: They create their own society, and resolve their own conflict. Which may be why the lesson just goes down like the truth." - The New York Times Book Review
**"Corr's neon colors and joyous folk-naive artwork set this Russian folktale aglow....The animal household embodies cooperation and peaceful resolution, and Corr's artwork mesmerizes."-- Publishers Weekly Starred Review - Publishers Weekly
** "Well-told, charmingly illustrated, and with a positive portrayal of inclusiveness and creating community, this noteworthy picture book is sure to delight."--Booklist Starred Review - Booklist
**"Readers will delight in the striking illustrations and captivating characters, while text repetition makes for a wonderful read-aloud. Corr's artwork is a feast for the eyes. Dazzling." Kirkus Reviews, STARRED REVIEW - Kirkus Reviews
"This modest tale is somewhat reminiscent of "The Mitten" and offers a lesson on the marvels of what can be accomplished when creatures work together. A colorful addition for storytimes and one-on-one sharing."--School Library Journal - School Library Journal