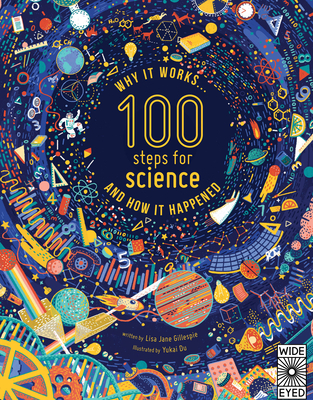 100 Steps for Science
why it works and how it happened
Hardcover

* Individual store prices may vary.
Description
Plunge into the world of science and learn about humankind's ten most important discoveries, including stars, wheels, numbers, light, medicine, sound, atoms, materials, energy and life.

See how early scientific observations made by ancient civilizations went on to shape our world today, and learn how technology evolved over time in ten breakthrough moments for each of the ten key discoveries.

From the invention of the wheel, which was adapted over thousands of years to power the powerful modern engines of the modern age, learn how simple steps in science led to giant leaps for mankind.
Praise For 100 Steps for Science: why it works and how it happened…
"The topics covered include space, wheels, numbers, light, sound, particles, medicine, materials, energy, and life. Each topic includes several pages divided into ten different subjects, with mixed media illustrations depicting aspects of the various subjects." - Marge Cox, Library Media Specialist, Veterans Memorial Elementary School, Naples, Florida, in an Additional Selection Review for School Library Connection
—
-
"Broken down into 10 fields, this volume explains the progression of different concepts in science as they developed and changed, such as the evolution from simple machines and wheels to water mills and wind farms...VERDICT General science history material paired with pleasing visuals in a large format; school libraries may want to consider." – Thomas Jonte, Pensacola State College, FL, for School Library Journal
—
-
"In an enriching history of scientific progress, Gillespie offers a well-rounded chronological overview of breakthroughs and advancements in 10 areas of science: space, wheels, medicine, energy, and more...Du works in bright blues and citrus tones, and her understated cartoons give a clear sense of historical settings as well as scientific processes, such as how electricity is generated at a power station, making the concepts all the more comprehensible." - Publisher's Weekly
—
-
Wide Eyed Editions, 9781847808431, 64pp.
Publication Date: April 6, 2017
About the Author
Irish-born, London-based LISA JANE GILLESPIE studied science for many years before editing all sorts of children's books. She's combined her love and talent to pen Science 10: Ten Discoveries That Changed The World.
YUKAI DU is an illustrator and animator from Guangzhou, China. She graduated from Central Saint Martins College in 2014, and now works and lives in London. Her clients include: Adobe, Wired UK, TED-Ed, The Washington Post, The New York Times and The Telegraph.