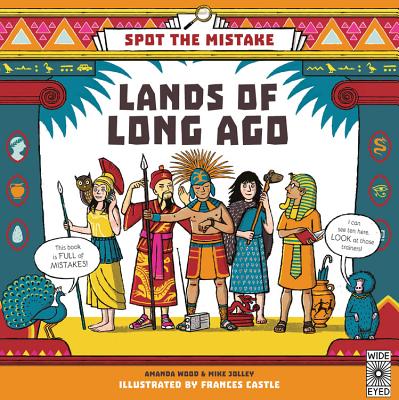 Spot the Mistake (Hardcover)
Lands of Long Ago
Wide Eyed Editions, 9781847809643, 48pp.
Publication Date: May 2, 2017
* Individual store prices may vary.
Description
Would a Mayan warrior have worn a watch? Would a Viking have used a compass? Test your knowledge of history and spot 20 mistakes in every scene. Then, turn the page to discover if you were right and learn more fun facts about ancient civilisations, including the Ancient Greeks, the Ancient Egyptians, the Romans, the Mayans, the Vikings, and many more!
About the Author
AMANDA WOOD began her career in illustration at the Natural History Museum, London, and went on to be the founding Editor and Publisher of Templar for more than 30 years. In her time there, she published and nurtured numerous Greenaway winners, and edited and wrote groundbreaking series such as The Ologies, which have sold over 19 million-copies worldwide. Today she writes and runs her own small press from her home in Surrey.
Mike Jolley has worked as an Art Director in children's books for over 25 years. He also sells artwork made from found objects, under the name 'Box 2'. It was during one of his many junk shop visits that the idea of using midcentury school information charts for Curiositree first took shape. He lives on a cliff overlooking the English Channel.
FRANCES CASTLE has been working as a freelance illustrator since 2005, after beginning her career in the computer games industry. She is inspired by comic book art and vintage children's books from the 50's and 60's, and loves good charity shop finds of old magazines, books and packaging.
Praise For Spot the Mistake: Lands of Long Ago…
"Eye-opening discoveries await readers who think wheelbarrows, eyeglasses, street signs, and forks have always been around."--Kirkus Reviews - Kirkus Reviews
"Will no doubt inspire curiosity in history, science, math, social studies, and beyond. A recommended purchase for most public and school libraries."--School Library Journal - School Library Journal
"Eagle-eyed young historians will love scanning the pages of this oversize book....Overall, the whole effect lends itself well to teamwork, loads of discussion, and lots of giggles."--Booklist - Booklist
"With its beautifully embossed hard cover and cartoonlike illustrations, this oversize picture book doesn't exactly say seventh grader. But after I left it out on the dining room table, I found my 13-year-old and her two friends huddled over it, pointing to the pictures and (I swear) saying, "This is cool!" " - The New York Times Book Review
"More serious young historians will relish Spot the Mistake: Lands of Long Ago… This large, lively book taps into children's delight in gloating over grownup errors, encouraging critical scrutiny along the way." - The Guardian