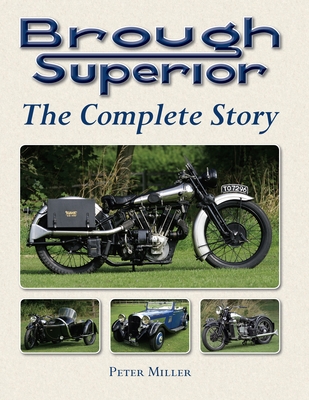 Brough Superior (Hardcover)
The Complete Story
The Crowood Press UK, 9781847971128, 272pp.
Publication Date: October 15, 2009
* Individual store prices may vary.
Description
George Brough started building motorcycles shortly after the First World War. The machines were named Brough Superior both to distinguish them from his father's Brough machines and to denote the highest levels of performance and quality of manufacture. Throughout the 1920s and 1930s, the name Brough Superior was synonymous with the very best in motorcycle design. The machines gained fame in the hands of riders such as Bert le Vack, Eric Fernihough, Noel Pope and, of course, T. E. Lawrence 'Lawrence of Arabia'. This book documents the full story of Brough and Brough Superior from the early years of the twentieth century through to the end of production in the Second World War, and post-war attempts at revival.
About the Author
Peter Miller has enjoyed a lifetime's interest in historic vehicles. Vintage cars were an early passion, but over the years early motorcycles have become a more dominant interest. His early motorcycling experience was obtained with Corgi scooters which, with their single gear and 30mph maximum speed, represent the antithesis of the Brough Superior. It was 1999 before he gained his first experience with a Brough Superior, a 1939 SS80 De Luxe model, which he subsequently bought and now regrets the missed 'Broughing' years. Early retirement has given Peter time for vehicle restoration and to research background histories of the machines he owns. He is a resident of Dorset, England.