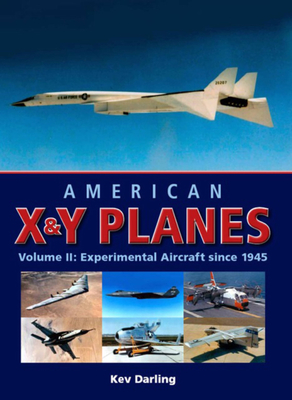 American X&Y Planes (Hardcover)
Volume 2: Experimental Aircraft Since 1945
The Crowood Press UK, 9781847971470, 176pp.
Publication Date: September 15, 2010
* Individual store prices may vary.
Description
In 1945 the Allies returned home with much technical information from German research concerning jet engines and swept wings. Though the USAAF had already deployed an early batch of jet fighters, Lockheed P-80 Shooting Stars, to Italy in 1945, their centrifugal-flow engines had limited scope for further development compared with the axial-flow engines used by the Germans. Also, it was obvious that a new breed of airframes was needed to take advantage of the huge power increase offered by jet engines: the answer was the swept wing carefully coupled with a blended fuselage. This second volume of Kev Darling's history of American prototype and experimental aircraft tells the full story of these fascinating aircraft, from the primitive jets of the immediate post-war period to the F-22 and F-23 stealth fighters that represent the pinnacle of modern warplane design.
About the Author
Kev Darling spent more than twenty years in the Royal Air Force, engineering aircraft ranging in size from the Tiger Moth to the TriStar. Medically discharged after the first Gulf War he strengthened his writing career, which he had begun in 1986. Since then he has authored numerous magazine articles and more than twenty books and monographs. He lives in Vale of Glamorgan.
or
Not Currently Available for Direct Purchase