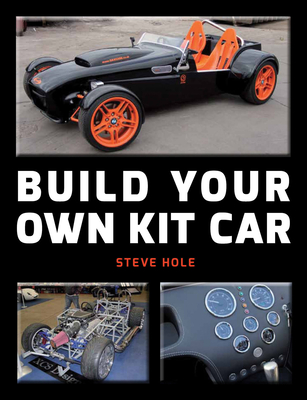 Build Your Own Kit Car
Paperback

* Individual store prices may vary.
Description
In Build Your Own Kit Car, renowned car expert Steve Hole presents a comprehensive guide to planning, managing and executing a kit car build. The first part of the book covers the history of kit cars; detailing the innovations the kit car industry has made in car building technology, and how companies like Westfield and Caterham have become household names. The second half of the book takes you through a full build project, from chassis, brakes, suspension and engine through to trimming and interiors. Other topics included within this book are:
- Types of kit cars, including the differences between kits, replicas and one-off builds.
- Choosing the right car for you.
- Budgeting for your build.
- Setting up your workspace, tools needed and workshop safety.
- Building techniques.
List of useful contacts to help find the best resources for your kit car build. Whether you are planning on building a blisteringly quick trackday car, classic roadster or eccentric road car, Build Your Own Kit Car has all the resources and information you need to build and enjoy your own unique automotive creation.
The Crowood Press UK, 9781847975461, 192pp.
Publication Date: December 1, 2013
About the Author
Steve Hole lives in Warlingham, Surrey, with his partner Carol, and is a member of the Guild of Motoring Writers. Now one of the UK's leading kit and specialist car journalists, as a youngster Steve lived near the Trojan factory, and would walk past twice a day, to and from school: line-ups of bubblecars and Elvas really fired-up his imagination from an early age. Steve started his kit car writing career with Kit Cars & Specials magazine, in 1984, and has worked either directly for, or contributed on a freelance basis to other, related titles. He co-founded Sportscar magazine in 2001, going on to found weekly webzine www.totalkitcar.com and TKC Magazine, which he still edits and publishes. This is his third book on the subject of kit cars. Steve was nominated for a Special Interest Magazine award in 2014.
or
Not Currently Available for Direct Purchase