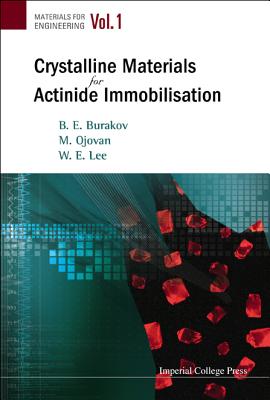 Crystalline Materials for Actinide Immobilisation (Materials for Engineering #1) (Hardcover)
Imperial College Press, 9781848164185, 197pp.
Publication Date: December 30, 2010
* Individual store prices may vary.
Description
This book summarises approaches and current practices in actinide immobilisation using chemically-durable crystalline materials such as ceramics and monocrystals.As a result of the increasing worldwide growth of the nuclear industry, long-lived α-emitting actinides such as Pu, Np, Am and Cm are fast becoming a serious environmental concern -- actinide-bearing wastes have accumulated in different countries due to nuclear weapons production. On the other hand, as actinides are chemical elements with unique properties they could be beneficially used for humankind in areas such as medicine and technology. Durable actinide-containing materials are attractive for various applications. These include in chemically-inert sources of α-irradiation used for a variety of functions such as energy sources for unmanned space vehicles and microelectronic devices, as well as hosts for nuclear waste and in nuclear fuels to burn excess Pu.Unfortunately, there is currently no appropriate balance between safe actinide disposal and use, even though both processes require their immobilisation in a durable host material. Thus, the choice of an optimal actinide immobilisation route is often a great challenge for specialists.Although a wealth of information exists about actinide properties in many publications, little has been published summarising currently accepted approaches and practices for actinide immobilisation. Crystalline Materials for Actinide Immobilisation fills this gap using information based on the authors' first-hand experience and studies in nuclear materials management and actinide immobilisation.