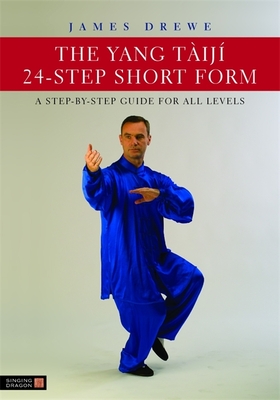 The Yang Tàijí 24-Step Short Form (Paperback)
A Step-By-Step Guide for All Levels
Singing Dragon, 9781848190412, 382pp.
Publication Date: November 15, 2010
* Individual store prices may vary.
Description
Yang 24-Step T ij quan is one of the most widely-practiced T ij quan forms in the world today, and the form that most people first learn. Gentle enough to be suitable for the elderly, yet challenging enough to stretch even the most experienced practitioner, it is also one of the most accessible and rewarding.
In his new book, James Drewe provides a comprehensive and detailed explication of the postures and movements of the form. For each, he describes exactly how the weight flows, how to use the hands, how to move the limbs, and how to relax into the movement, clearly explaining each step with the aid of foot patterns and photographs. Sections on the internal aspects of T ij quan, descriptions of the subtle variations that may be made when performing certain movements, and even instructions on how to fit the movements to music are also included.
This comprehensive guide to Yang 24-Step T ij quan is an invaluable resource for taiji practitioners at all levels, including beginners, as well as taiji instructors, and students of other martial arts.
About the Author
James Drewe has been practising taiji and qigong since 1975. He has studied taiji with Master Chu King Hung, Richard Watson, Prof. Li Deyin, Master Wang Yanji, Simon Watson, and Master Huang Ping. He currently teaches Yang, Sun, Chen, and Wudang styles of taiji, including various sword, fan, and stick forms. James is Vice-Chairman of the Longfei Taijiquan Association, a member of the British Council for Chinese Martial Arts (BCCMA) and is a registered instructor with the Tai Chi Union for Great Britain (TCUGB). James is the author of Taiji Jian 32-Posture Sword Form, also published by Singing Dragon.