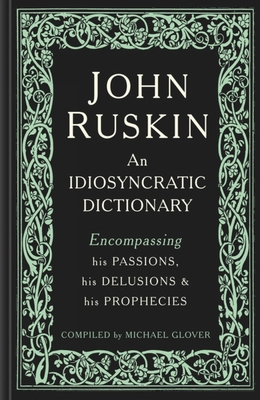 John Ruskin
An Idiosyncratic Dictionary Encompassing his Passions, his Delusions and his Prophecies
Hardcover

* Individual store prices may vary.
Description
From Aesthete to Ziffern, Baby-Language to Verbosity, Badgers to Railway Stations: this gloriously serendipitous dictionary presents the life, times, and strong opinions of John Ruskin (1819-1900)—art critic, patron, draftsman, watercolor painter, social thinker, and philanthropist. Michael Glover's delightful A-Z distills the essence of Ruskin, revealing a lighter side to the man known for his thirty-nine volumes of ponderous prose. When off his guard, Ruskin could write pithily and amusingly, but he was also a fascinating amalgam of self-contradictions. Combining judiciously selected extracts from Ruskin's writings with the author's wittily insightful interpretations, this book is essential reading for all those curious to know what Ruskin did with a cyanometer, why he hated iron railings and the Renaissance, and how Proust's admiration of the man was tinged with distrust.
Praise For John Ruskin: An Idiosyncratic Dictionary Encompassing his Passions, his Delusions and his Prophecies…
"A fascinating read [...] Glover is a sharply funny writer"—Julia Armstrong, The Companion
Lund Humphries, 9781848223745, 160pp.
Publication Date: November 15, 2019
About the Author
Michael Glover is a poet and the visual arts critic and senior feature writer for the Independent. He is also the poetry editor of the Tablet. As an arts journalist, he has been a regular contributor to The Times, the Financial Times, the New Statesman, and The Economist, as well as a London correspondent for ARTnews. His recent publications include Neo Rauch in the Lund Humphries Contemporary Painters Series.
or
Not Currently Available for Direct Purchase