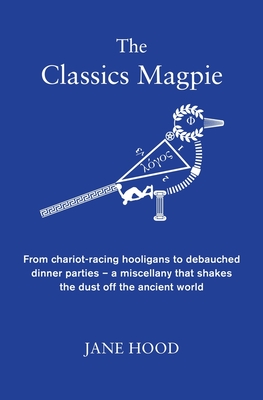 Classics Magpie
A Cornucopia of Classical Curiosities, Fascinating Facts and Astonishing Anecdotes from the Ancient World
Hardcover

* Individual store prices may vary.
Description
Perfect for fans of Mary Beard or films like The Eagle or 300, in this new miscellany Oxford classicist Jane Hood delves into the history, culture, literature, mythology, and philosophy of ancient Greece, Rome, and Egypt, unearthing unexpected gems from a lost world.
How much can you learn about archaeology from an oil lamp? What was a Roman dinner party like? Which tragedian was killed when a tortoise fell on his head?
From ancient cosmetics to chariot-racing hooligans, from the deciphering of ancient languages to the what the Romans knew about concrete, this is the essential miscellany for all curious minds, whether or not you learned Classics in high school
Jane Hood was, before recent retirement, a fellow in ancient philosophy at the University of Oxford specializing in Aristotle and ancient medicine. She has held research fellowships in philosophy in Paris and in ancient medicine with the Wellcome Institute in London.
Icon Books, 9781848317307, 224pp.
Publication Date: December 23, 2014