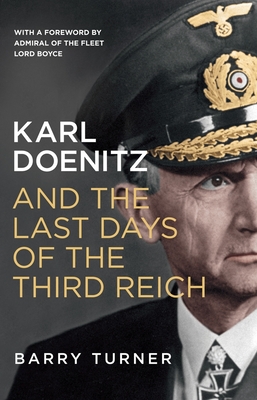 Karl Doenitz and the Last Days of the Third Reich
Hardcover

* Individual store prices may vary.
Other Editions of This Title:
Paperback (2/14/2017)
Description
Among the military leaders of World War II, Grand Admiral Karl Doenitz remains a deeply controversial figure. As chief of the German submarine fleet he earned Allied respect as a formidable enemy. But after he succeeded Adolf Hitler--to whom he was unquestioningly loyal--as head of the Third Reich, his name became associated with all that was most hated in the Nazi regime. Yet Doenitz deserves credit for ending the war quickly while trying to save his compatriots in the east. His Dunkirk-style operation across the Baltic rescued up to two million troops and civilian refugees. He was sentenced to ten years at Nuremberg--a penalty acknowledged as a blatant example of victor's justice--and after his release from Spandau kept well away from politics. Barry Turner's closely examined and even-handed portrait gives a fascinating new perspective on this complex figure, to whom history has not been kind.
Icon Books, 9781848319226, 304pp.
Publication Date: April 12, 2016
About the Author
Barry Turner is an acclaimed historian and Editor of the prestigious The Statesman's Yearbook (Palgrave) which has recently celebrated its 150th anniversary, described as 'the most comprehensive guide to world political and economic affairs' by Robert Thomson, Publisher, Dow Jones and The Wall Street Journal. Turner's most recent books are Beacon for Change (Aurum Press, 2011) and with Tony Rennell, When Daddy Came Home (Arrow, 2014), described as 'fascinating' by the Daily Mail. He lives in London and south-west France.