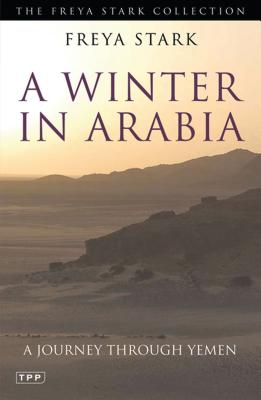 A Winter in Arabia (Paperback)
A Journey Through Yemen (Freya Stark Collection)
Tauris Parke Paperbacks, 9781848851924, 315pp.
Publication Date: May 25, 2010
* Individual store prices may vary.
Description
In 1934 Freya Stark made her first journey to the Hadhramaut in what is now Yemen--the first woman to do so alone. Even though that journey ended in disappointment, sickness, and a forced rescue, Stark, undeterred, returned to Yemen two years later. Starting in Mukalla and skirting the fringes of the legendary and unexplored Empty Quarter, she spent the winter searching for Shabwa--ancient capital of the Hadhramaut and a holy grail for generations of explorers. From within Stark's beautifully-crafted and deeply knowledgeable narrative emerges a rare portrait of the customs and cultures of the tribes of the Arabian Peninsula. A Winter in Arabia is one of the most important pieces of literature on the region and a book that placed Freya Stark in the pantheon of great writers and explorers of the Arab World.
About the Author
Freya Stark (1893-1993), called "the poet of travel," was the doyenne of Middle East travel writers and one of the most courageous and adventurous female travellers in history. She travelled extensively through Syria, Palestine, Lebanon, Iran, Iraq and Southern Arabia, where she became the first western woman to travel through the Hadhramaut. Usually solo, she ventured to places few Europeans had ever been. Her travels earned her the title of Dame and huge public acclaim and her many, now classic, books include Travels in the Near East, Ionia, The Southern Gates of Arabia, Alexander's Path, Dust in the Lion's Paw, East is West and Valleys of the Assassins.
Praise For A Winter in Arabia: A Journey Through Yemen (Freya Stark Collection)…
"It is her ability to sketch out the situation for us, along with her affection and sensitivity to this distant culture -- so far from the Europe in which she grew up -- that makes her such an affecting companion on this new journey of her." -- RALPH: The Review of Arts, Literature, Philosophy, and the Humanities "Readers of Stark's reissued works...will find a writer who endows everyone in her field of vision with the heightened interest that she felt herself." -- The New Yorker
"A treasure of rare distinction among travel books." -- The New York Times Book Review
"Here, for once in a very long while, is a book upon which the miser of superlatives may pour out his hoard of praise . . . To read such a book . . . is to be proud and thankful. For here is a lovely charity and calm courage, vivid gaiety, the strong peace of truth and understanding; and quietness." -- The Times Literary Supplement
"Her writing has wit and vivacity and no little beauty; I found the whole book enthralling." -- Christian Science Monitor
Named one of The London Times' "20 Best Travel Books of the Past Century"
Praise for Freya Stark: "...it is beautiful writing that encapsulates not only the history, but the feel, the smell, the sensation and sheer wonder of what she discovers... enriching and enjoyable."  --
London Turkish Gazette
 "Freya Stark has rightfully earned a place among the greatest travel writers of the 20th century. I.B.Tauris is releasing [A Winter in Arabia] alongside seven other works, as The Freya Stark Collection. A timely reminder of an extraordinary woman and a fine writer."  --
Sunday Telegraph
"It's hard to think of a writer in the travel game who most closely demonstrates the merits of Flaubert's three rules for good writing: clarity, clarity and finally clarity. Re-reading her now, her restrained powers of description shine as brightly as they ever did, and they will continue to shine until the next Ice Age... Her books are more relevant than ever. Besides sheer enjoyment, one should read her for a fresh perspective on the intractable issues dogging Christian-Muslim relations. She was able to see both sides and what she found was similarity, not difference. The greatest woman traveller of the 20th century? I think so." --The Times
"Stark was a talented writer, her books are beautifully crafted and deeply knowledgeable." -- 
The Lady
"This year's rich swathe of reissued classics includes the long overdue Freya Stark Collection. A Winter in Arabia, first published in 1972, offers snippets from her diary bringing to light her stay with the Yemeni of the Hadhranaut in 1937, before continuing into her solitary travels." -- The Scotsman 2010 Travel Review "She was a vivid describer of scenes and landscapes. More, she was a connoisseur of people: she knew how to draw them out and listened closely when they spoke" -- Claudia Roth Pierpont,
The New Yorker
or
Not Currently Available for Direct Purchase