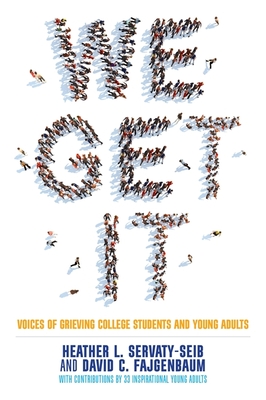 We Get It (Paperback)
Voices of Grieving College Students and Young Adults
Jessica Kingsley Publishers, 9781849057523, 208pp.
Publication Date: June 21, 2015
* Individual store prices may vary.
Description
Silver Medal Winner in the Grief/Grieving category of the 2015 Foreword Reviews' INDIEFAB Book of the Year Awards
A unique collection of 33 narratives by bereaved students and young adults, this books aims to help young adults who are grieving and provide guidance for those who seek to support them.
Grieving the death of a loved one is difficult at any age, but it can be particularly difficult during college and young adulthood. From developing a sense of identity to living away from family and adjusting to life on and off campus, college students and young adults face a unique set of issues. These issues often make it difficult for young adults to talk about their loss, leading to a sense of isolation, different-ness and a pressure to pretend that everything is OK. The narratives included in this book are honest, engaging and heartfelt, and they help other students and young people know that they are not alone and that there are others who 'get' what they are going through. The narratives are usefully divided by themes, such as isolation, forced maturity and life transition challenges, and include commentary by the authors on grief responses and coping strategies. Each section also ends with helpful questions for reflection.
Inspired by the experiences of Dr. Fajgenbaum losing his mother during college and Dr. Servaty-Seib dedicating her career to college student bereavement, this book will be a lifeline for students and young adults who have lost a loved one. It will also be of immeasurable value to counselors, college administrators, grief professionals and parents.
About the Author
Heather L. Servaty-Seib, Ph.D., is a counseling psychologist. She is currently a professor on the Counseling Psychology Doctoral Program in the Department of Educational Studies at Purdue University, US. Dr. Servaty-Seib also maintains a small, grief-focused private practice. She is well-published in the areas of adolescent and young adult grief, social support and grief, and she is a past president of the Association for Death Education and Counseling. Much of her recent scholarship has been focused in the area of student bereavement, with articles published in both The Counselling Psychologist and Death Studies. Dr. Servaty-Seib was heavily involved in implementing a bereavement leave policy for students at Purdue University, an effort which has set a precedent for other campuses. She lives in Lafayette, IN. David C. Fajgenbaum, M.D., MSc, is an Adjunct Assistant Professor of Medicine at the University of Pennsylvania and the co-founder of the National Students of AMF Support Network, a non-profit organisation dedicated to supporting college students grieving the illness or death of a loved one. Dr. Fajgenbaum co-founded the organization in 2006 in memory of his mother, Anne Marie Fajgenbaum (AMF). The organization is now a national movement that has supported 3,000+ students on 200+ campuses and raised national awareness about college student grief. David has been profiled on Forbes Magazine's 30 Under 30 list, the Today Show, Reader's Digest, and 40 million bags of Doritos. AMF now stands for "Actively Moving Forward." David received his BS from Georgetown University, his MSc in Public Health from Oxford University, his MD from the University of Pennsylvania, and his MBA from The Wharton School of Business. Dr. Fajgenbaum lives in Philadelphia, PA.
or
Not Currently Available for Direct Purchase