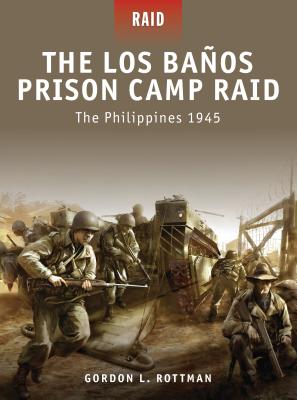 The Los Banos Prison Camp Raid: The Philippines 1945 (Paperback)
The Philippines 1945
Osprey Publishing (UK), 9781849080750, 80pp.
Publication Date: September 21, 2010
* Individual store prices may vary.
or
Not Currently Available for Direct Purchase
Description
Learn the story of one of World War II's most masterfully executed raids. On the southwest shore of Laguna de Bay, near a village of the same name, stood the Los Banos Internment Camp. Held within were over 2,000 starving men, women, and children, guarded by 250 Japanese soldiers, and surrounded by several thousand more in the nearby countryside.
As the desparate battle for Manila raged, it was feared that the prisoners would be executed or moved beyond the reach of the liberating armies. Only 130 Paratroopers could be spared for the rescue operation and this stunning triumph of courage and perfect timing in the face of overwhelming odds is rendered with riveting detail in this new Raid title. Author Gordon Rottman offers a bird's-eye-view from the origins of the conflict through the planning and execution of the raid and this in-depth analysis is backed by rare photographs and stunning artwork by Johnny Shumate. A nail-biter from beginning to end.
About the Author
Gordon L. Rottman entered the US Army in 1967, volunteered for Special Forces and completed training as a weapons specialist. He served in the 5th Special Forces Group in Vietnam in 1969-70 and subsequently in airborne infantry, long-range patrol and intelligence assignments until retiring after 26 years. He was a Special Operations Forces scenario writer at the Joint Readiness Training Center for 12 years and is now a freelance writer, living in Texas. The author lives in Cypress, Texas.
Praise For The Los Banos Prison Camp Raid: The Philippines 1945…
"This is an awe inspiring story about 130 Paratroopers against all odds ... The author presents an authentic view from the planning to the execution of the raid through in depth analysis, rare photos and fantastic artwork by Johnny Shumate." -www.mataka.org (November 2010)

"It is an excellently written book in that the author makes you feel like you are part of the whole experience."-www.mataka.org (January 2011)

"...[the] moment-by-moment drama is captured in a blend of rare photos, artwork by Johnny Shumate, and a dramatic script by historian Gordon L. Rottman that keeps the action moving and lively from start to finish. Any serious, in-depth World War II collection needs this!"
Advertisement