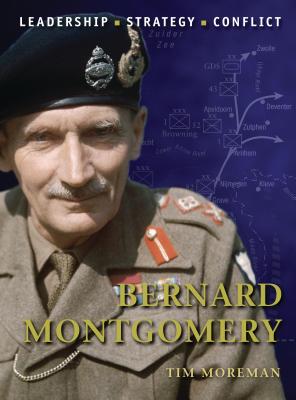 Bernard Montgomery: Leadership, Strategy, Conflict (Paperback)
Leadership, Strategy, Conflict
Osprey Publishing (UK), 9781849081436, 64pp.
Publication Date: November 23, 2010
Description
This Osprey Command title looks closely at the early life, military experiences and key battlefield exploits of Field Marshal Bernard Law Montgomery, first Viscount Montgomery of Alamein (1887-1976), perhaps the best-known, most highly respected and most controversial British general of World War II. "Monty's" reputation was made while in command in North Africa, in the Mediterranean and then North-West Europe. Arguably his best-known achievement was rebuilding a dispirited and defeated eighth army and inflicting a decisive defeat on Rommel at El Alamein.
Montgomery's style and exercise of command and his personal reputation were largely shaped by his highly driven, but often difficult and enigmatic personality. He made an incalculable contribution to the Allied victory in Europe, and his leadership had played a crucial role in transforming the British Army into a war-winning weapon.
About the Author
Tim Moreman is a freelance writer and academic. For several years he lectured in the Department of War Studies at King's College London, from where he obtained his PhD. He also held a six-month appointment as Resident Historian at the Army Staff College at Camberley. His primary interests include the British-Indian Army during the 19th and 20th centuries, counter-insurgency, and the British and Commonwealth armies during World War II. In addition to a significant number of articles and papers, Tim has written two major books: a study of the Indian Army on the North-West Frontier 1849-1947, and a book on the war in Burma and Malaya 1941-45. In recent years he has also worked for the new Dictionary of National Biography and the Australian War Memorial, as well as acting as a historical adviser for the BBC and Carlton Television. He is based in Somerset, UK. The author lives in Somerset, UK.
Praise For Bernard Montgomery: Leadership, Strategy, Conflict…
"Whether you are a historian or modeler, Bernard Montgomery exposes a fascinating view of, 'this brilliant but deeply flawed man.' I certainly recommend this book to both fans and critics of Field Marshal Montgomery..." - Frederick Boucher, www.armorama.com
Advertisement