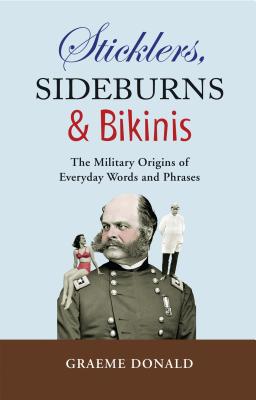 Sticklers, Sideburns & Bikinis: The Military Origins of Everyday Words and Phrases (Paperback)
The Military Origins of Everyday Words and Phrases
Osprey Publishing (UK), 9781849081573, 280pp.
Publication Date: March 23, 2010
* Individual store prices may vary.
or
Not Currently Available for Direct Purchase
Description
Did you know they started 'hearing through the grapevine' during the American Civil War, that 'ghettos' originated in Venice or that 'deadline' has a very sinister origin? Jam-packed with many amazing facts, Sticklers, Sideburns and Bikinis is a fascinating trip through the words and phrases that came to us from the military but nowadays are used by soldier and civilian alike. The sources of many are surprising and their original use is often far removed from that of today. From 'duds' to 'freelancers' and 'morris dancing' to 'bikini' this enthralling book describes the military origins of words that we use without thought on a daily basis.
About the Author
Graeme Donald has been researching the origins of words, nursery rhymes, superstitions and popular misconceptions for years and has published eight titles through Unwin-Hyman and Simon & Schuster. For the ten years that Today newspaper was on the stands he wrote a daily column exploring such material and also wrote for The Mirror and The Age in Melbourne. He devised and set the questions for Back to Square One, a word-origins based panel game which ran for eight series on Radio 2 and World Service. He has also guested on countless radio and television shows, either to explain words and customs at special times - Christmas, Easter, Halloween, etc. - or simply to field listeners' or viewers' question.
Praise For Sticklers, Sideburns & Bikinis: The Military Origins of Everyday Words and Phrases…
"...Sticklers, Sideburns and Bikinis is consistent in content, formatting, and layout. Each word is accompanied by a paragraph of its history (or more, as the case may be) as to how the word came into the language. Even mayonnaise, which I dip my French fries into much to the horror of ketchup-loving friends, has its origin in the military (a victory dinner with very few ingredients resulted in the invention on mahonnaise in the Port of Mahon by a military chef).

Graeme Donald has taken great pains to research the word origins in his book and makes a point of not relying solely on English experts but also on military experts who sometimes have a different view on the origins of a word. For words with unresolved disagreements, Donald provides both (along with his e-mail if you want to weigh in on which version is right).

Overall, this is a compact and well-done book that can be read cover to cover or in random bits as the mood strikes you." -www.booklorn.com
--------

Osprey Publishings' FUBAR - 2007's dictionary of military slang - was widely praised, and received wide coverage in national media circles, including featuring in an article in The Spectator
Advertisement