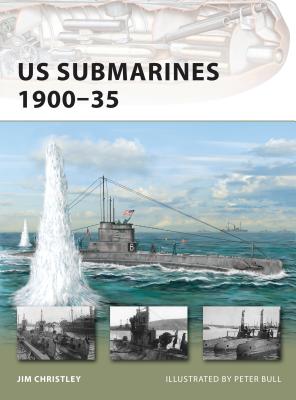 US Submarines 1900-35 (Paperback)
Osprey Publishing (UK), 9781849081856, 48pp.
Publication Date: April 19, 2011
Description
This book introduces the reader to the early years of US submarine development and operation during the first third of the 20th century. It was in this period of growth and change that the submarine moved from a small vessel of limited range and tactical strength to a far ranging force. It also covers the little-told story of the United State's submarine force during World War I, and the lessons they learned that would be passed on to future generations of submariners.
About the Author
Jim Christley retired from the US Navy in 1982 as a senior chief petty officer having served on seven submarines ranging from diesel to nuclear fast attacks to ballistic missile boats. A student of US submarine technical history, he has written numerous articles and a book on the subject in addition to providing technical illustrations to several notable books on submarine design and history. Jim is a resident of Lisbon, Connecticut. The author lives in Lisbon, Connecticut.
Praise For US Submarines 1900-35…
"...an excellent reference and read with a great blend of details and engaging narrative." -Rob Benson, IPMS/USA

"This well-illustrated monograph describes the development of the submarine as a warship in the U.S. Navy from its beginnings with USS Holland to the emergence of boats that could wage war in all of the oceans. The author describes the technology that greatly expanded the submarine's capabilities, and then describes the U.S. Navy's little-known submarine operations in World War I, including encounters with German U-boats." -Richard R. Burgess, Seapower (August 2011)
Advertisement