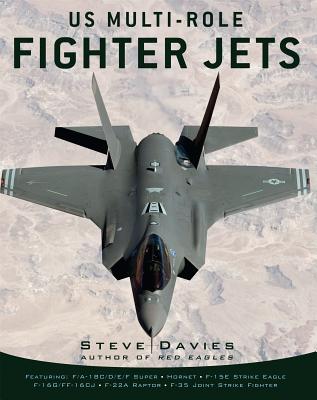 US Multi-Role Fighter Jets (Hardcover)
Osprey Publishing (UK), 9781849082204, 240pp.
Publication Date: April 19, 2011
* Individual store prices may vary.
or
Not Currently Available for Direct Purchase
Description
Steve Davies, military aviation photographer and critically acclaimed author of Red Eagles, is back with a new photo-essay on American's cutting-edge fighter fleet. Davies examines the F/A-18C/D/E/F Super Hornet, F-15E Strike Eagle, F-16CG/F-16CJ, F-22A Raptor, and the F-35 Joint Strike Fighter, taking readers on a complete behinds-the-scenes tour of these fearsome jets, from the hangers to the skies. In between, Davies explores the cutting edge technology that makes these birds fly and interviews the pilots and ground crews that make them sing. Join Davies for this all-access tour of the mighty jets that help keep America the world's only air superpower.
About the Author
Steve Davies is a freelance military and commercial aviation photojournalist based in Cambridge, England. He began writing in 2001, and has since authored six critically acclaimed books and co-authored three more. His freelance writing includes a plethora of articles penned for the world's leading monthly and quarterly aviation publications, and he has also worked on a range of aviation 'partwork' magazines that have sold millions of copies globally. He has also worked as a subject matter expert for a range of military aviation documentaries commissioned by terrestrial television channels in the UK and North America, and by the History Channel. His photography has been used not only by the aviation press, but also by leading defense contractors and aviation corporations.
Praise For US Multi-Role Fighter Jets…
"Each jet is discussed following a structure that discusses the development and design, testing, weapon systems and armaments, tactics and techniques, deployments and bases of operation. Add to this, first hand pilot and operations accounts from engagements in Iraqi, Bosnia, Afghanistan and other theatres of operation and you get some very exciting real-world stories of the capabilities of these jets as well as their impact on opposing forces." -Ken McDevitt, IPMS/USA

"... a superb book for those who want to learn more about [fighter jets], but don't want to be overwhelmed with stats. The pilot stories add a lot of spice to the book and the large number of photos add some great eye candy. It is a great addition to the library of a jet fanatic and one I can highly recommend to those wanting to learn more about the subject." -Scott Van Aken, Modeling Madness

"This book is full of well-researched information and personal stories. Author's portrayal of the recent US Air Force fighters is indicative, he studied this subject for a long time and in this book examines some of the most iconic and recognized aircraft of the last 30 years, combining combat stories with photographs of the aircraft."          -NeoPopRealism Journal


Advertisement