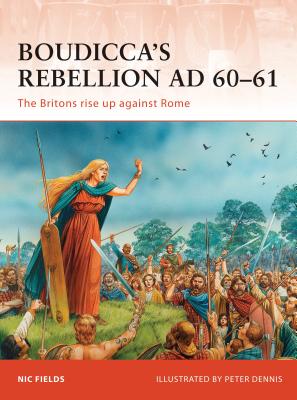 Boudicca's Rebellion AD 60-61: The Britons Rise Up Against Rome (Paperback)
The Britons Rise Up Against Rome
Osprey Publishing (UK), 9781849083133, 96pp.
Publication Date: April 19, 2011
Description
The flame-haired figure of Boudicca, leading the brave but doomed British rebellion against the mighty Roman empire, has occupied the popular imagination for centuries, but it is often difficult to separate the myth from the reality. Nic Fields weighs up the literary and archaeological evidence for her campaigns against the Romans and reconstructs what seems to have happened. He discusses the weaponry and tactics of the opposing armies and considers the rebellion in the context of wider Roman history. A final chapter considers the afterlife of the legend of Boudicca/Boadicea. This study is lavishly illustrated, with both diagrams and specially-commissioned drawings and photographs of key sites and artefacts.
About the Author
Dr. Nic Fields started his career as a biochemist before joining the Royal Marines. Having left the military, he went back to University and completed a BA and PhD in Ancient History at the University of Newcastle. He was Assistant Director at the British School at Athens, Greece, and then a lecturer in Ancient History at the University of Edinburgh. Nic is now a freelance author and researcher based in south-west France.
Advertisement