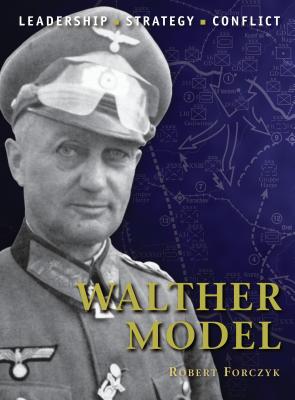 Walther Model: Leadership Strategy Conflict (Paperback)
Leadership Strategy Conflict
Osprey Publishing (UK), 9781849083577, 64pp.
Publication Date: June 21, 2011
* Individual store prices may vary.
or
Not Currently Available for Direct Purchase
Description
This volume details the military career and accomplishments of Walther Model, the youngest Generalfeldmarschall in the Wehrmacht in World War II and Hitler's favorite commander. His role on the Eastern Front saw him involved in most of the key battles of the second half of the warm, including the battles of Kursk Leningrad and the desperate attempt to halt the Soviet Bagration offensive. He also played a key role in the west, where his drive and defensive prowess saw his forces inflict heavy casualties on British forces at Arnhem and US forces in the Hurtgen Forest.
Model was a tough and tenacious commander, particularly when on the defense, and his career rise was virtually unprecedented in German military history. Model truly made his mark late in the war, when time was already running out for the Third Reich, but time and again he was rushed from one crumbling front to the next and succeeded in temporarily restoring the situation. Above all, Model deserves recognition as one of the great defensive commanders of modern military history.
About the Author
Robert Forczyk has a PhD in International Relations and National Security from the University of Maryland and a strong background in European and Asian military history. He retired as a lieutenant colonel from the US Army Reserves having served 18 years as an armor officer in the US 2nd and 4th infantry divisions and as an intelligence officer in the 29th Infantry Division (Light). Dr Forczyk is currently a consultant in the Washington, DC area. The author lives in Washington, DC.
Advertisement