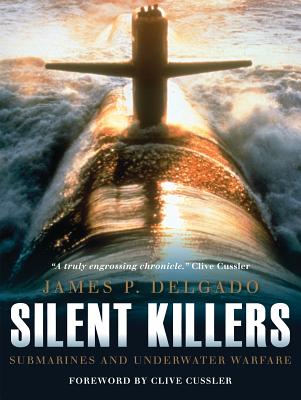 Silent Killers: Submarines and Underwater Warfare (Hardcover)
Submarines and Underwater Warfare
Osprey Publishing, 9781849083652, 224pp.
Publication Date: June 21, 2011
* Individual store prices may vary.
or
Not Currently Available for Direct Purchase
Description
James P Delgado, President and CEO of the Institute of Nautical Archaeology and author of Nuclear Dawn (Osprey), presents a detailed, stunningly visual, examination of the history and development of the submarine and its role in naval warfare, from the first practical experiments with submersible craft to the development of the modern nuclear submarine.
Calling on his training as a nautical archaeologist who was among the first explorers to dive the Titanic, Delgado recreates the story of the sub from the bottom up--that is, through eerie photographs of subs at the bottom of the sea. In addition, he explores submarine technology, from wooden to iron to steel hulls, from hand-cranked to nuclear powered propulsion, from candle light to electricity, from gunpowder "torpedoes" to nuclear missiles Since the time of Jules Verne, submarines have been a topic of great interest to maritime and military fans and Delgado's new book explores all of the submarine's triumphs and tragedies, successes and failures in this fascinating and compelling illustrated history.
About the Author
Dr. Delgado is currently the Director of the Maritime Heritage Program at NOAA, formerly the President and CEO of the Institute of Nautical Archaeology, and was the Executive Director of the Vancouver Maritime Museum in Vancouver, British Columbia for 15 years. Previously, he was the head of the U.S. government's maritime preservation program and was the maritime historian for the U.S. National Park Service. Dr. Delgado co-hosted The Sea Hunters along with best-selling author Clive Cussler, from 2001 to 2006.
Praise For Silent Killers: Submarines and Underwater Warfare…
"...Silent Killers is a unique look back into an underwater realm few have ever seen. It is truly a remarkable work on all fronts." -Ron Fortier, New York Journal of Books (June 2011)

"From wooden to iron and steel hulls, to hand-cranked propulsion, this [book] traces the evolution of the submarine and its continuing importance in military strategy, making for a top pick for any military history holding." - The Midwest Book Review (September 2011)

"Silent Killers will serve as an entertaining reference work for those who seek the fuller history of this undersea endeavor." - Ryder Miller, San Francisco Book Review
Advertisement