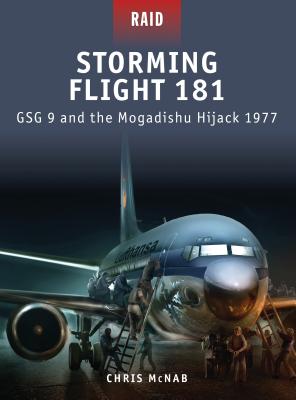 Storming Flight 181: GSG 9 and the Mogadishu Hijack 1977 (Paperback)
GSG 9 and the Mogadishu Hijack 1977
Osprey Publishing (UK), 9781849083768, 80pp.
Publication Date: April 19, 2011
Description
In 1977, Lufthansa Flight 181 was hijacked by terrorists and flown to Mogadishu, Somalia. Once landed, members of the German special missions group, GSG-9, stormed the plane, killing three of the terrorists and wounding the fourth, while successfully avoiding any major harm to the hostages. This book details the backgrounds of both GSG-9 and the hijackers and offers a detailed analysis of the planning and execution of the mission, codenamed Operation Feuerzauber (Fire Magic), one of the most audacious special forces operations of modern times.
About the Author
Chris McNab has published more than 30 titles on history, military history, weapon systems and survival, including two titles for Osprey - Tools of Violence (2008) and Deadly Force (2009) - and other works such as Twentieth-Century Small Arms (2001), The Encyclopedia of Combat Techniques (2002), Fallschirmjager - German Paratroopers of World War II (2000) and Weapons of War: AK47 (2001). Chris was a contributor to Hugh McManner's book Ultimate Special Forces (2003) and has written for the Times on the war in Afghanistan. Chris is also an experienced freelance copy-editor for Osprey, having worked on many of its series and general titles.
Advertisement