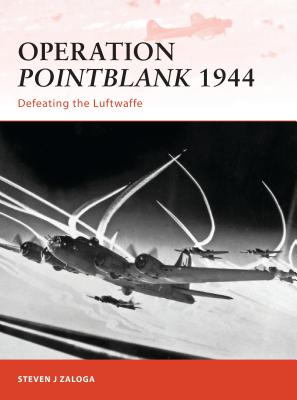 Operation Pointblank 1944: Defeating the Luftwaffe (Paperback)
Defeating the Luftwaffe
Osprey Publishing (UK), 9781849083850, 96pp.
Publication Date: July 19, 2011
* Individual store prices may vary.
or
Not Currently Available for Direct Purchase
Description
Osprey's examination of Operation Pointblank, which was the code name for the United States Army Air Force's attempt to destroy German fighter capability through the use of daylight strategic bombing in advance of the D-Day landings of World War II (1939-1945). Launched in 1943, the operation immediately met with severe problems, most notably the horrible attrition experienced by the US bomber forces. However, with the arrival of the P-51 Mustang, the United States was able to equip the fighters to fly on long-range-bomber escort missions and take the fight to the Luftwaffe in the skies over Germany. This book examines the entire operation from both the Allied and the German perspectives, covering all the main decisions and technological innovations made by both sides in this epic struggle.
About the Author
Steven J. Zaloga received his BA in history from Union College and his MA from Columbia University. He has worked as an analyst in the aerospace industry for over two decades, covering missile systems and the international arms trade, and has served with the Institute for Defense Analyses, a federal think-tank. He is the author of numerous books on military technology and military history, with an accent on the US Army in World War II as well as Russia and the former Soviet Union.
Praise For Operation Pointblank 1944: Defeating the Luftwaffe…
"Author Steven J. Zaloga brings us the story of Operation Pointblank with his usual learned style, featuring good detail, a clear presentation, and a great deal of graphics to support the text." - Frederick Boucher, Aeroscale
Advertisement