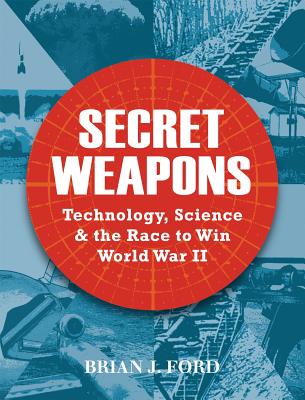 Secret Weapons: Technology, Science and the Race to Win World War II (Hardcover)
Technology, Science and the Race to Win World War II
Osprey Publishing, 9781849083904, 304pp.
Publication Date: September 20, 2011
* Individual store prices may vary.
or
Not Currently Available for Direct Purchase
Description
Powerful illustrations and a unique new narrative make this an incomparable illustrated history of the secret weapons that changed the course of World War II. The book's basic structure is chronological, charting the race in technology between the Allied and Axis powers, with examples of their use in battle, along with those that remained experimental or remained the stuff of science fiction. Importantly (and of interest to the general reader) it also shows how wartime research anticipated the high-tech era in which we now live. The account charts secret weapons development from the Japanese ray gun of the 1930s to the powerful V2 rocket, and compares World War II secret weapons research with the realities of present-day science. It's a riveting story of innovation under pressure, from a world of machine guns and biplanes to electronics, rockets, and nuclear bombs with the power to wipe out humanity.
About the Author
Brian J Ford is a prolific research scientist who launched major science programms for the BBC. His books pioneer new approaches in bringing science to the public. Over 100 editions of his books have been published around the world, and he appears in TV programmes produced in studios ranging from Hollywood to Delhi, and from Germany to Japan. He was a NESTA Fellow 2004-2007, was presented with the inaugural Kohler medal in America for his work in microscopy, and has been nominated for the prestigious Faraday Medal of the Royal Society in London. His work is widely reported and discussed in journals including Scientific American, Nature, New Scientist, The Microscope and the British Medical Journal; his discoveries feature in many text-books and CD-ROMs. In addition to textbooks he has also written the popular 101 Questions about Science books. His First Encyclopaedia of Science (for the pre-teens) sold over 70,000 copies in a month. Brian J Ford contributes to The Guardian, The Daily Telegraph and The Times.
Praise For Secret Weapons: Technology, Science and the Race to Win World War II…
"British scientist and TV personality Ford pulls back the curtain in this fascinating, accessible study of the weapons and tactics that changed the course of World War II." -- Publishers Weekly

"Ford writes with a light touch... this will be lots of fun for military history fans, including younger history buffs." -- Library Journal
Advertisement