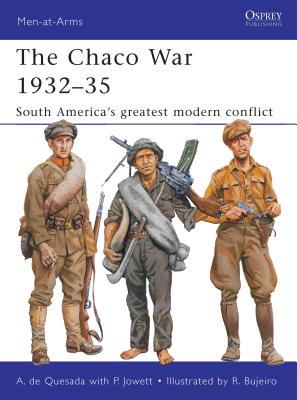 The Chaco War 1932-35: South America's Greatest Modern Conflict (Paperback)
South America's Greatest Modern Conflict
Osprey Publishing (UK), 9781849084161, 48pp.
Publication Date: November 22, 2011
Description
Often over-shadowed by contemporary events in China and Japan, the Chaco War (1932-1935) was a massive territorial war between Bolivia and Paraguay, which cost almost 100,000 lives. It was sparked by Bolivia's attempts to capture a stretch of the Paraguay River to gain access to the Atlantic. An old fashioned territorial dispute, the contested area was the Gran Chaco Boreal, a 100,000-square mile region of swamp, jungle and pampas with isolated fortified towns. The wilderness terrain made operations difficult and costly as the war see-sawed between the two sides. Bolivian troops, under the command of a German general, Hans von Kundt, had early successes, but these stalled in the face of a massive mobilization programme by the Paraguans which saw their force increase in size ten-fold to 60,000 men. Both sides acquired 'modern' technology including tanks and planes in an attempt to seize the initiative but by 1935 both sides were exhausted and a ceasefire concluded. This book sheds light on a vicious territorial war that waged in the jungles and swamps of the Gran Chaco and is illustrated with rare photographs and especially commissioned artwork.
About the Author
Alejandro de Quesada is a Florida-based military history writer, an experienced researcher and collector of militaria, photos and documents, who runs an archive and historical consultancy for museums and films as a secondary business. He has written over 100 articles and over 25 books, including several for Osprey, and is a leading authority on Latin American subjects.He is the author of the following Osprey titles to date: The Spanish-American War and Philippine Insurrection; The US Home Front 1941-45; Roosevelt's Rough Riders; The Bay of Pigs; The Mexican Revolution; The United States Coast Guard during World War II; Spanish Colonial Fortifications in North America.
Praise For The Chaco War 1932-35: South America's Greatest Modern Conflict…
"Throughout the book are a superb collection of period photos and illustrations. This is all enhanced more by the superbly done uniform illustrations that makes this series so popular. It is another fascinating title and looks at a conflict few are truly aware took place. It is a very interesting read and can easily be recommended." - Scott Van Aken, Modelling Madness
Advertisement