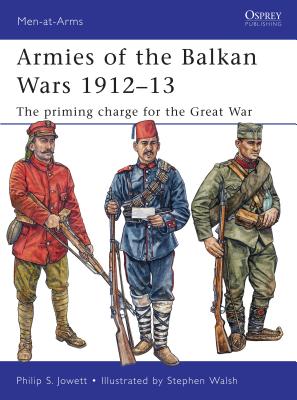 Armies of the Balkan Wars 1912-13: The Priming Charge for the Great War (Paperback)
The Priming Charge for the Great War
Osprey Publishing (UK), 9781849084185, 48pp.
Publication Date: April 19, 2011
* Individual store prices may vary.
or
Not Currently Available for Direct Purchase
Description
In 1912, the Balkan states formed an alliance in an effort to break free from the crumbling Ottoman Empire. Forming an army of some 645,000 troops from Greece, Bulgaria, Serbia and Montenego, they took on a force of 400,000 Turkish soldiers. Both sides were equipped with the latest weapons technology. This book looks at the diverse and sometimes colorful uniforms worn by both sides, paying special attention to insignia, weapons and equipment. It also gives an overview of the campaign that became a "priming pan" of World War I.
About the Author
Philip Jowett was born in Leeds in 1961, and has been interested in military history for as long as he can remember. His first Osprey book was the ground-breaking MAA 306, Chinese Civil War Armies 1911-49; he has since published a three-part sequence on The Italian Army 1940-45 (MAA 340, 349 & 353). A rugby league enthusiast and amateur genealogist, he is married and lives in Lincolnshire.
Praise For Armies of the Balkan Wars 1912-13: The Priming Charge for the Great War…
"This 48-page book examines the diverse and sometimes colorful uniforms and exotic
regional costumes ... Special attention is paid to equipment, insignia and weapons during this intriguing period of transition from the 19th to 20th Century.
Fascinating details, photographs and illustrations, including color plates by Stephen Walsh, provide plenty of hobby project inspirations for anyone interested in this prelude to World War I. Plus, toy soldier collectors can learn the backstory behind some sets of old Britains and figures being produced by modern makers such as Beau Geste." -Toy Soldier & Model Figure (August 2011)
Advertisement