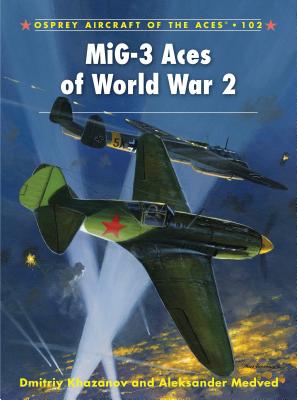 MiG-3 Aces of World War 2 (Paperback)
Osprey Publishing (UK), 9781849084420, 96pp.
Publication Date: January 24, 2012
* Individual store prices may vary.
or
Not Currently Available for Direct Purchase
Description
Created by ex-Polikarpov designers Ivanovic Mikoyan and Mikhail Gurevich, the MiG-1/3 family of fighters was built to satisfy a Soviet Air Force requirement for an advanced, fast, high altitude fighter. Entering service in the spring of 1941, the problematic MiG-1 had its handling problems rectified with the hasty production of the MiG-3 - the latter had its Mikulin engine moved further forward, increased outer wing dihedral and a strengthened fuselage. As of 22 June 1941, Air Force manoeuvre units in the five borderline military districts could field 917 MiG-3s. Many of these were destroyed on the ground when the Germans launched Operation Barbarossa. Nevertheless, enough examples survived to allow pilots such as Stepan Suprun (Twice Hero of the Soviet Union), Aleksandr Pokryshkin (Thrice Hero of the Soviet Union) and Lev Shestakov (Hero of the Soviet Union) to claim a number of victories on the type. Early successes by units such as 23rd and 28th IAPs resulted in 35 aerial victories being claimed by MiG-3 pilots in the first eight days of the Great Patriotic War. Other units enjoyed similar levels of success, with MiG-3-equipped 15 and 31st IAP proving themselves to be the most combat-ready fighter units on the Northwestern Front. By the end of 1941, a handful of pilots had 'made ace' flying the MiG-3, despite the Soviet air forces having taken a fearful beating at the hands of the Luftwaffe. In 1942 MiG pilots actively participated in the defence of Leningrad, Moscow, Odessa, Kiev and Sevastopol, with still more aviators becoming aces as the year progressed. Amongst them was Aleksandr Pokryshkin, the second-highest scoring Russian ace with 59 victories to his name. He claimed his first five kills while flying a MiG-3 with 55th IAP. Stalin terminated MiG-3 production in October 1941, although the fighter remained in frontline service in large numbers until mid-1942. Surviving examples continued to serve with national air defence regiments until 1943.
About the Author
Dmitriy Khazanov is one of Russia's leading experts on the history of Soviet aviation in World War 2. He has written 15 books and a great number of articles, which have been published in Russia, the UK, Germany, Finland, France and Japan. Aleksandr Medved is a retired air force colonel who has written 11 books and a number of articles on the history of Soviet and foreign combat aircraft development in World War 2. Khazanov and Medved have previously co-written a handful of monographs on subjects such as MiG-3 Fighter, Pe-2 Dive-Bomber and Er-2 Long-Range Bomber.
Praise For MiG-3 Aces of World War 2…
"As with all books in this series, it is superbly illustrated not only with period photos of the men and planes, but also with several pages of full color profiles. It makes for an excellent read for enthusiasts and a great reference for modelers."
- Scott Van Aken, Modelling Madness

"With exceptional research, captivating photographs, and outstanding artwork, students and modelers of MiGs, and WW2 Soviet planes and pilots should really appreciate this work."
- Fred Boucher, AeroScale

"This is a valuable history that's useful as a reference source. If you want to know more about the MiG-3, you simply have to have this volume."
- Robert F. Dorr, Aviation History (January 2013)
Advertisement