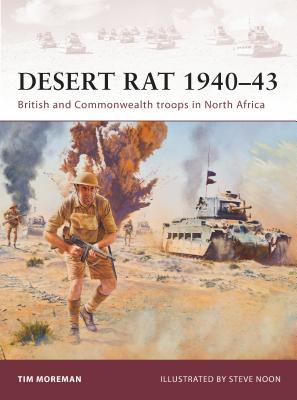 Desert Rat 1940-43: British and Commonwealth Troops in North Africa (Paperback)
British and Commonwealth Troops in North Africa
Osprey Publishing (UK), 9781849085014, 64pp.
Publication Date: November 22, 2011
* Individual store prices may vary.
or
Not Currently Available for Direct Purchase
Description
Osprey's examination of the 'Desert Rats', a popular nickname used to describe first 7th Armoured Division and then all the mixed body of British Commonwealth troops - British, Australian, New Zealand and Indian - that fought against Axis forces in North Africa between 1940 and 1943. For a long period during the early years of World War II (1939-1945), this was the only theatre of war where the United Kingdom could strike back against the Axis powers, and the seesaw desert war fought out along the coast of the Mediterranean in Egypt, Libya and then Tunisia proved a harsh testing ground for British arms - in terms of organization, equipment and methods of waging war.
The distinctive dress, equipment and weapons developed and carried by the Desert Rats into battle will be examined as will the expansion, organization and training of the desert army. To illustrate the distinctive combat experience gained by the Desert Rats between 1940 and 1943, three representative operations will be examined in detail - Operation Compass in 1940, the battle of Gazala in May 1942 and finally the last phase of the decisive fighting at El Alamein in October-November 1942. Accompanied by full-color illustrations, this title will shed new light on these fascinating troops.
About the Author
Tim Moreman is a freelance writer and academic. For several years he lectured in the Department of War Studies at King's College London, from where he obtained his PhD. He also held a six-month appointment as Resident Historian at the Army Staff College at Camberley. His primary interests include the British-Indian Army during the 19th and 20th centuries, counter-insurgency, and the British and Commonwealth armies during World War II. In addition to a significant number of articles and papers, Tim has written two major books: a study of the Indian Army on the North-West Frontier 1849-1947, and a book on the war in Burma and Malaya 1941-45. In recent years he has also worked for the new Dictionary of National Biography and the Australian War Memorial, as well as acting as a historical adviser for the BBC and Carlton Television. He is based in Somerset, UK.
Praise For Desert Rat 1940-43: British and Commonwealth Troops in North Africa…
"It is not a history of the war in the desert, but an excellent look at what it was like. Thanks to some great period photos and the superb artwork or Steve Noon, we get a glimmer of the hardships these men faced and how they were overcome. Another superlative title in the series and a book that I can easily recommend to you." - Scott Van Aken, Modelling Madness
Advertisement