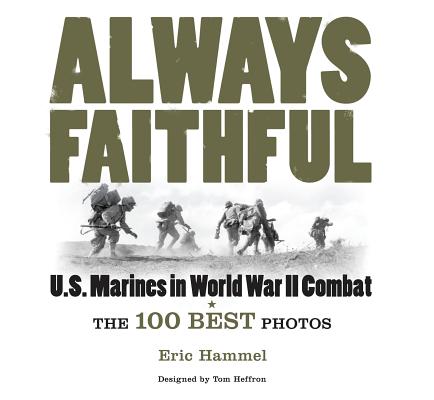 Always Faithful: U.S. Marines in World War II Combat (Hardcover)
U.S. Marines in World War II Combat
Osprey Publishing (UK), 9781849085380, 199pp.
Publication Date: October 18, 2011
* Individual store prices may vary.
or
Not Currently Available for Direct Purchase
Description
A picture is worth a thousand words. In his latest book, Marine Corps historian and author of over 40 books, Eric Hammel, has assembled one hundred combat photos from the Pacific Theater of Operations of the Second World War. Together these tell the story of the Marines' costly victory over the Japanese.
Over the years, historians, novelists, film makers and artists, have attempted to capture what it was like to fight in the Pacific. In Always Faithful, readers are invited to take in the combat slowly, as it unfolds, image by image.
Arranged by theme-from dramatic images of beach assaults to heartbreaking photographs of the injured and killed-in-action-Always Faithful seeks to depict the essence of the War in the Pacific and the core of what it means to be a Marine.
About the Author
Eric Hammel is a professional military historian with forty books and nearly seventy magazine articles to his credit (visit www.erichammelbooks.com). He has been writing about U.S. Marines at war since the early 1960s and has spoken to large assemblages of Marines and former Marines over the course of three decades. He often has been invited to lead professional military education seminars at the Marine Corps University as well as at Marine Corps commands on the West Coast. For many years he was a contributing editor and West Coast stringer for Leatherneck magazine. He has appeared in numerous television documentaries on Marine Corps operations in World War II, Korea, Vietnam, and Beirut. Hammel has also worked as a freelance acquisitions and line editor, and for ten years operated his own military history publishing firm (Pacifica Press). He lives in California.
Praise For Always Faithful: U.S. Marines in World War II Combat…
"If 'a picture is worth a thousand words,' then Eric Hammel's latest book speaks volumes. This 200-page masterpiece of the Marines' combat in the World War II Pacific campaign is surely a 'page-turner'..." - LtCol. Ray Stweart, USMC, Leatherneck Magazine (January 2012)

"...an amazing collection of US Marine wartime images that inspire, immerse and educate, and keep you turning the pages for the next picture. Historians and modelers will find a wealth of source material." -Frederick Boucher, AeroScale

"Eric Hammel is one of our most interesting and dedicated military writers."
—Tom Ricks, author of The Making of the Corps

"Hammel's magnificent compilation is a "best of breed" that captures—like no other work—the sweat, grime, misery and terror that was combat in the Pacific.  This is an effort that underscores Hammel's position as one of the subject's leading historians.  Simply put, Always Faithful is the must-have pictorial of Marine Corps operations in the Pacific."
—LtCol. Jay A. Stout, USMC (Ret), Author of The Men who Killed the Luftwaffe    
 
"While some readers may already be familiar with many of the photos collected here by Eric Hammel, all will find his selection and arrangement uniquely encapsulates the fighting in the Pacific. In Always Faithful, there are solitary moments where a Marine faces an unseen enemy and moments where brothers-in-arms stand shoulder to shoulder. It is instants like these that remind me of what it means to be a Marine."
—Col. William J. Davis, USMC (Ret), Executive Director of the MacArthur Memorial, Norfolk, Virginia

"An inspirational and graphical account of Marines doing what they have always done when the Nation calls.  Hammel's selection of images peeks into the individual's  gut-level experience of combat in the Pacific through the eyes of those who "closed with the enemy", from the assault on the beach through the ebb and flow of the fighting to eventual victory. A must for any military historian's reference library."
—R.J. Sullivan, LtCol, U. S. Marine Corps (Ret)
 
"Military writer Eric Hammel has used his broad research background to capture the essential essence of the Marine Corps Pacific War experience during World War II.  The focus on the individual Marines pictured makes as strong an impact as any narrative would.  This visual legacy is preserved and presented in a memorable manner and style.  Semper Fi!"
—Charles D. Melson, Chief Historian, U.S. Marine Corps History Division
Author of Osprey's Marine Recon, Vietnam Marines, and U.S. Marine Rifleman in Vietnam

"A powerful and evocative visual portrayal of Marines in close combat during the climactic battles of World War II. The images and illustrations are emotional, soul searing reminders of the human cost of the Pacifc Campaign. For anyone looking for a viceral understanding of battle, this book is not to be missed."
—John R. Bruning author of The Devil's Sandbox, Bomb's Away, The Battle of the Bulge, Jungle Ace, Ship Strike Pacific, and Crimson Sky

"Eric Hammel has captured the true character of war in the Pacific, a fight to the finish, with no holds barred.  The images in Always Faithful are far from the glorified portrayals of home front propaganda.  They portray the gutsiness of combat—the filth, the stress, the pain of a lost comrade—in such a way as to be indelibly etched in the viewer's mind.  Hammel's selection of photos is spot on…I highly recommend Always Faithful." 
—Colonel Dick Camp USMC (Ret), Vice President of Museum Operations, Marine Corps Heritage Foundation

"The photos speak for themselves... For World War II history buffs who prefer a visual approach."
—Library Journal (October 1, 2011)
Advertisement