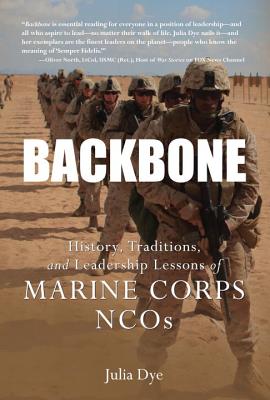 Backbone: History, Traditions, and Leadership Lessons of Marine Corps NCOs (Hardcover)
History, Traditions, and Leadership Lessons of Marine Corps NCOs
Osprey Publishing, 9781849085489, 264pp.
Publication Date: November 22, 2011
* Individual store prices may vary.
or
Not Currently Available for Direct Purchase
Description
Non-commissioned officers stand as the Backbone of the United States Marine Corps. The Corps is among the most lasting institutions in America, though few understand what makes it so strong and how that understanding can be applied effectively in today's world. In her first book, Julia Dye explores the cadre of non-commissioned officers that make up the Marine Corps' system of small unit leadership. To help us better understand what makes these extraordinary men and women such effective leaders, Dye examines the 14 traits embraced by every NCO. These qualities-including judgment, enthusiasm, determination, bearing, and unselfishness-are best exemplified by men like Terry Anderson, the former Marine sergeant who spent nearly seven years as a hostage in Beirut, and John Basilone, the hero of the Pacific. To assemble this extraordinary chronicle, Julia Dye interviewed Anderson and dozens of other Marines and mined the trove of historical and modern NCO heroes that comprise the Marine Corps' astonishing legacy, from its founding in 1775 to the present day.
About the Author
Julia Dye, Ph.D. keeps the entertainment industry honest through technical advising and performer training, and helps Hollywood directors capture the realities of warfare. As a partner in the consulting firm Warriors, Inc., she provided weapons training to Colin Farrell for the film Alexander and with the military advisory team, oversaw historical accuracy for the HBO series, The Pacific. Dye earned her doctorate in hoplology (the anthropology of human conflict) from The Union Institute & University. She is a frequent consultant for the History Channel, Military Channel and Discovery Channel and is the former Executive Director of the Society of American Fight Directors, and helped create the Los Angeles Fight Academy. Visit her on the web at http: //www.warriorsinc.com and http: //juliadye.com.
Praise For Backbone: History, Traditions, and Leadership Lessons of Marine Corps NCOs…
Praise for Backbone
 
"OUTSTANDING! A great capture of the Marine NCO. This should be required reading for all Devil Dogs. A big 'atta boy' goes to the author. Any businessman, or anyone in a leadership position, will benefit greatly by reading this book."
—GySgt R. Lee Ermey

"This remarkable book cracks the bone and examines the 'marrow' of leadership. One of the best books ever written about leadership, with powerful, riveting examples and direct application to the business world, or any other field of endeavor. Required reading for every Marine, for everyone who honors and studies our military, and for everyone who studies and strives in the field of leadership."
—LtCol Dave Grossman, USA (ret.), author of On Killing and On Combat
 
"Dr. Julia D. Dye has written an absolutely fascinating book on U.S. Marine Corps noncommissioned officers (NCOs)—the backbone of the Corps. Taking fourteen leadership traits that are endemic to what constitutes the essence of a Marine NCO, Dr. Dye deftly interweaves personal stories from the past and present and demonstrates why the Marine Corps remains the elite military service that it is today. I predict that Dr. Dye's book will be required reading for anyone who aspires to improve themselves or, more importantly, desires to wear the earned and respected chevrons of a Marine NCO."
—Dr. Charles P. Neimeyer, Director and Chief, USMC History
 
"Backbone is essential reading for everyone in a position of leadership—and all who aspire to lead—no matter their walk of life. Julia Dye nails it—and her exemplars are the finest leaders on the planet - people who know the meaning of 'Semper Fidelis.'"
—LtCol Oliver North, USMC (Ret.), Host of "War Stories" on FOX News Channel
 
"Backbone defines the spirit and ethos of leadership exemplified by the few and the proud, the United States Marine. Julia Dye focuses on the critical role of the noncommissioned officer as the nucleus for successful mission accomplishment, she gives the reader a fascinating insight to the culture, ethics, and tradition that has molded Marine NCOs as leaders on and off the battlefield for generations. Backbone gives us an understanding of the unique metrics that shape Marine NCOs, giving the reader a compelling overview on what defines, influences, and creates successful leaders. Backbone is a must read for any organization or individual that views leadership as being centric to their success"
 —Captain Jim Palmersheim, Managing Director, Veterans and Military Programs, American Airlines
 
"Few people have the privilege of serving as a noncommissioned officer in the U.S. Marine Corps, but anyone who is interested in leading the kind of purpose-driven and values-centered life that marks the best Marine NCOs can learn from this book. And anyone in the business of leading people—whether it's in business, the classroom, or the playing field—should study the men and women Dye writes about with such insight. These NCOs don't just teach young Marines; they have a great deal to teach anyone smart enough to read, listen, and learn."
—Ed Ruggero, author of The First Men In: US Paratroopers and the Fight to Save D-Day
 
"A primer for life and a classic about values. While certain to be studied in military circles, it actually deserves to be read by all college students."
—Bing West, best-selling author of The Village, The Strongest Tribe, and The Wrong War
 
Advertisement