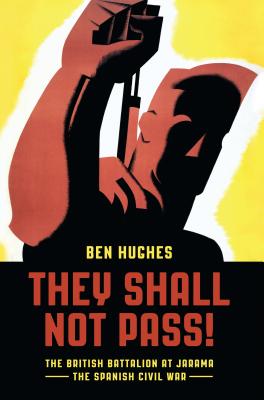 They Shall Not Pass: The British Battalion at Jarama - The Spanish Civil War (Hardcover)
The British Battalion at Jarama - The Spanish Civil War
Osprey Publishing (UK), 9781849085496, 272pp.
Publication Date: July 19, 2011
* Individual store prices may vary.
or
Not Currently Available for Direct Purchase
Description
In 1937 a group of idealistic British volunteers sailed from England to fight thedark threat of dictatorship in Spain. In the olive groves of Jarama they achieved the first victory against Franco's army. It was Fascism's first defeat. Hardly remembered today, it was possibly the crucial military turning point of the 20th century. For the first time, Ben Hughes reconstructs the battle in a vivid blow-by-blow account, and considers its fascinating aftermath. This near forgotten struggle, which took place in February 1937 south of Madrid, proved for the firsttime that fascism and its ilk, which up until then had steamrollered all opposition from the Rhineland to Addis Ababa, could in fact be stopped.
Although the Spanish Republicans would eventually lose the Civil War, their efforts, and those of the International Brigades who fought alongside them, paved the way for the more celebrated victories that followed. Without them, 20th century history would have followed a very different course. This lively account fromthe author of Conquer or Die is sure to interest any reader wishing to learn more about this tumultuous period in world history.
About the Author
Ben Hughes is the author 'CONQUER OR DIE! Wellington's Veterans and the Liberation of the New World' (Osprey 2010). Now an English Language lecturer and fluent in Spanish, he graduated from Leeds University in 1997, before spending several years teaching and travelling throughout South America. His passion for the continent and a lifelong interest in the Napoleonic era led to his first book, and his continuing fascination with Anglo-Hispanic relations has inspired this groundbreaking new book on Spain 's 20th century history, and the British who played a role in it. He now lives in North London with his Colombian wife.
Praise For They Shall Not Pass: The British Battalion at Jarama - The Spanish Civil War…
"They Shall Not Pass [is] an outstanding and detailed account of a little-known conflict." - The Midwest Book Review (September 2011)
Advertisement