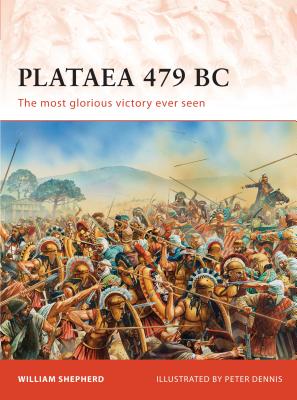 Plataea 479 BC: The Most Glorious Victory Ever Seen (Paperback)
The Most Glorious Victory Ever Seen
Osprey Publishing (UK), 9781849085540, 96pp.
Publication Date: January 24, 2012
* Individual store prices may vary.
or
Not Currently Available for Direct Purchase
Description
Plataea was one of the biggest and most important land battles of pre-20th century history. Close to 100,000 hoplite and light-armed Greeks took on an even larger barbarian army that included elite Asian cavalry and infantry from as far away as India, with thousands of Greek hoplites and cavalry also fighting on the Persian side. At points in the several days of battle, the Persians with their more fluid, missile tactics came close to breaking the Greek defensive line and cutting off their supplies. But, in a fatal misjudgement when he nearly had the battle won, their general Mardonius committed the cream of his infantry to close-quarters combat with the Spartans and their Peloponnesian allies. He died and his men were finally crushed by heavier weaponry and superior discipline. Meanwhile, 250 miles to the east, the Greek navy inflicted an equally decisive defeat on the Persians, neutralising Xerxes' seapower in the Aegean. The tiny minority of Greek city states that actually took up arms against the invading forces of the mightiest empire yet seen in the ancient world had halted its western expansion and driven it back.
The reconstruction of the battle of Plataea will draw on recent persuasive academic interpretations of the textual sources and visual evidence (mainly from near-contemporary vase paintings) for the early 5th-century method of hoplite fighting.
About the Author
William Shepherd studied classics at Clare College, Cambridge, in the 1960s and then embarked on a career in publishing, which finally brought him to Osprey, retiring from the position of chief executive in 2007. He is author of The Persian War (Cambridge, 1982), translated from Herodotus. He has also written reading books for children and articles in the Osprey Military Journal, of which he was joint editor, and makes regular contributions to the Osprey blog. He lives in the Cherwell Valley, north of Oxford.
Praise For Plataea 479 BC: The Most Glorious Victory Ever Seen…
"William Shepherd concisely yet vividly recounts one of the largest and most important land battles of pre-20th century history in Plataea 479 BC: The Most Glorious Victory Ever Seen ... The author's detailed reconstruction of Plataea campaign draws from ancient sources (predominantly Herodotus), close scrutiny of the battlefield and fairly recent studies of hoplite warfare. Wonderful
color plates by Peter Dennis highlight the illustrations and maps that enliven this 96-page paperback."
- Toy Soldier & Model Figure (July 2013)
Advertisement